Eve Clarkson, Staff Reporter
June 5, 2018
Reyan Ugas, sophomore, declines a fellow student's offer of a candy bar, despite being stressed, tired and hungry in the midst of finals week. Confused? Ugas declined the offer due to her religion which is Islam. She is one of the many Muslims at HHS and all around the world who are currently observing Ramadan, a holy month that happens each year.
Ari Geller, Staff Reporter
June 5, 2018
The rising popularity of the video game, Fortnite, has also brought great popularity to Twitch live streamer, Ninja. Ninja's real name is Tyler Blevins and has quickly become one of the most popular video game live streamers on Twitch in the world. Ninja started his career playing games such as H1Z1 and Player Unknown's Battlegrounds, otherwise known as PUBG, which are both games that Fortnite is modeled off of. Later, he switched to regularly playing Fortnite which he gained massive popularity from.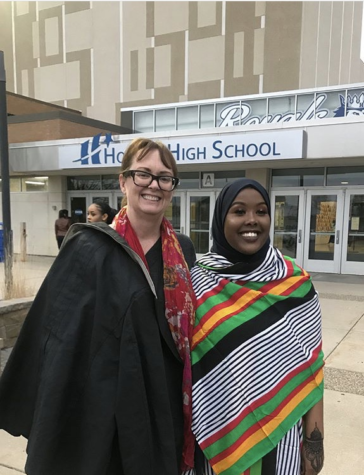 Mia Sparrow, Staff Reporter
June 5, 2018
On Fri. May 11, Somali night was held at the high school. It was organized by Anab Abdullahi, Ramla Mohamed, and Salma Said, juniors, as an AVID service project.

Loading ...