Mia Sparrow, Design Editor
October 12, 2018
Standing on the corner of Lindbergh Drive and Cedar Lake Road on Oct. 3, 26 year old Jeffrey Stocker, was hoping to mold some "developing minds."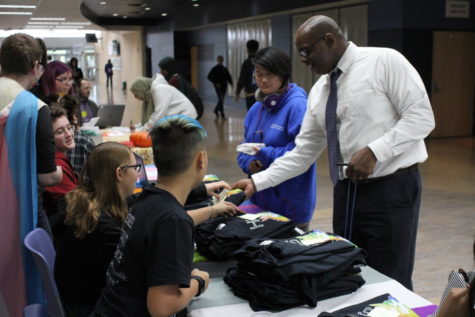 Nafi Soumare, Staff Reporter
October 11, 2018
After GSA's advisor, Mr. Williams, retired last year, the club was ripe for a brand new introduction to the HHS community under their new advisor.
Zoe Roemhildt, Staff Reporter
October 5, 2018
Dark, groggy, and unproductive, mornings tend to be one of the most dreaded time of day for teens. Ani Kruse and Annika Danielson, juniors,  hope to change this particular outlook by creating an opportunity for students to attend Art Club and start their day their day with a relaxed and content mindset.
Max Lacey, Staff Reporter
October 5, 2018
Students in entrepreneurship classes have just been assigned their semester long business projects. Students choose from multiple events that are also events in DECA. The projects that students work on during class can double as their DECA presentation.

Loading ...