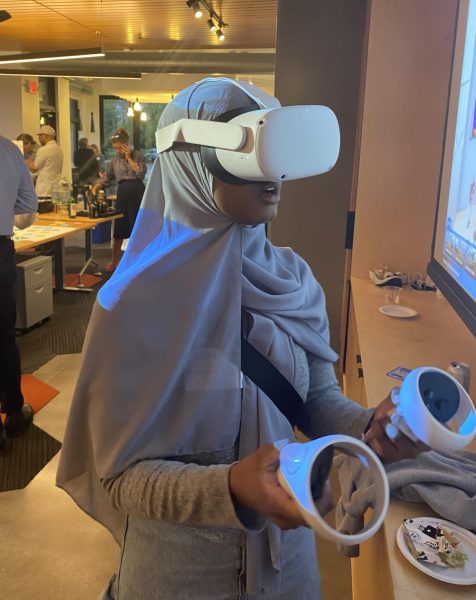 On Thursday, October 5th, Hopkins Schools took one step closer to building a new and improved learning environment.
"What we imagine is that student learning should no longer be just sitting at one desk doing work." Said Rhoda Mhiripiri-Reed, Superintendent of Hopkins Schools, referring to the expectation that students are to simply sit and work over class periods that span from 60-90 minutes. 
This is part of Mhiripiri-Reed's vision 2031; that students should be given opportunities to better engage with their work, with the chance to move between independent work, group work, and working with a teacher in order to progress to the best future they can have. 
Mhiripiri-Reed spoke about "The power and the possibility of open space" that could better improve the quality and experience of students learning. 
 The Pathfinder Exhibition was held in the Fielding Internationals building where teachers, principals, designers, and others gathered at the event and were introduced to the further imagined Vision 2031. 
Fielding International is a committed team of diverse designers, educators, architects, and more that are excited to work with the potential Hopkins holds to create successful and supported students. Designers showed their eagerness to create new rooms for schools with the exhibition. They showed models of building concepts, left boards for teachers and other viewers to leave questions or ideas, and even provided VR to get a better feel of what students would experience.  
"I was most excited about how engaged the students, teachers, and district leadership team are and how they provided great input throughout the process so that it never felt like I was designing alone." Brian Cho, a Senior Designer at Fielding International, said. Cho has had over 8 years of experience designing and working around the world.
Randy Fielding, the Founding Principal of Fielding International spoke highly about Hopkins and its people. He highlighted the great plan that Hopkins has created for their students. While Vision 2031 concentrates on creating the perfect environment for its students' learning, none of it would be possible without the space that Hopkins has to offer. 
"The space is really important, it's part of the ecosystem that makes us successful, "You need vision, teachers, educational programs, and of course you need the space too." Fielding said. 
Maida Ahmed, Senior and Co Student President of HHS, attended the meeting and spoke on the behalf of Hopkins students. Despite 2024 being her final year at HHS, she acknowledged the great possibilities upcoming students will have and showed gratitude to all those who are working towards a better future for learners. 
"While I'm a little jealous I didn't experience a space as cool as what they have planned, I know that many of the future generations will love a place like this and really thrive in it." Ahmed said, giving thanks to the staff and designers who are carrying out the project.