Top 15 greatest rap songs of all time: Number 15
Apr 29, 2020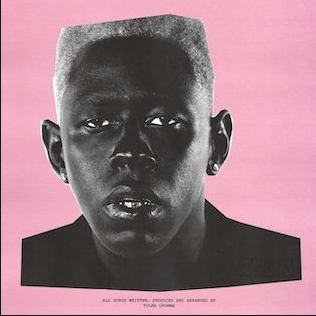 Tyler, The Creator – "NEW MAGIC WAND" (2019)
From the night that Tyler, The Creator's IGOR hit streaming services on May 17, 2019, until the moment that I am writing this article, "NEW MAGIC WAND" has been perpetually running through my earbuds and my mind.
"NEW MAGIC WAND" thrives off its immediacy and its several compositional switches. It functions as receiving a gift box and there are about eight different presents in there, all of which are awesome.
Jerrod Carmichael, a stand-up comedian and television star, preludes the track with an emblematic statement, "Sometimes, you gotta close a door to open a window," a metaphor for not dwelling on the past. Carmichael can barely even finish the word "window" before the buzzing bass and the drums that could have been recorded from a street musician outside Target Center bust in, as Tyler tries to close the proverbial door of his partner's memories with their ex as quickly as possible.
Tyler is going through a rough patch in a relationship on "NEW MAGIC WAND," and he is holding on for dear life and trying to prevent his significant other from returning back to their old ways. The immediacy of the song's instrumental manifests itself in the impatience Tyler has for this person trying to leave, begging with them repeatedly, "Please don't leave me," as if he's a wizard with his "magic wand" trying to put them under a love spell but is failing miserably.
Not getting his way right away, things turn ugly towards the end of the song and since his lover won't close the door, Tyler decides to end things off with this person and tries to vanquish any remanants of a person he once held close. The narrative that plays out fits into the conceptual nature of IGOR nicely as a turning point in this relationship that plays out throughout the 11 other tracks on the chart-topping project.
Also, despite the run time being only around three minutes and change, there's mood switches that make the song run longer than the actual time suggests. The rattling drums are constant and the song builds the Igor character into this mess trying to hold on by ramping up the magnitude of the song by adding background vocals courtesy of Santigold before Tyler has an intense freak out moment.
The instrumental fades to become a litle bit quieter, acting as the calm eye of the storm that is swirling around Igor. It's a cool down sonic moment sandwiched in between two aggressive verses, but the bridge might be even more psychotic than the aggression on either side, threatening to kill both his partner and their ex.
 "NEW MAGIC WAND" draws to a close with a ton of momentum hot off the heels of a stunning final verse from Tyler with his admittance that he wants to share last names with this person but can't because he's the other one. He then uses his "magic wand" to make this person disappear out of his life to bring the three minute emotional roller coaster ride to its end while all the passengers are trying to sort out what happened on the ride.
Tyler, The Creator has really come into his own as an emotional songwriter tackling issues such as love and relationships in ways that few others in hip hop, or any other genre, have done before. His artistic trajectory has gone up steadily since his beginnings as an artist whose value lied in shock value during the Odd Future years, and songs like "NEW MAGIC WAND" have Tyler's fans salivating for more.