Boys swim and dive compete in first dual meet
The HHS boys swim and dive team participated in their first dual meet of the year on Dec. 15, going up against St. Louis Park Orioles. The Royals struggled to keep up with the Orioles and lost 70 to 100.
Despite the loss, the Royals have celebrated many wins, including Avery Martens-Goldman, sophomore captain, placing first in the 100 breaststroke, and a close second place in the 200 medley relay for Elliot Berman, seventh grade, and Michael Korsh, Ethan Rosenthal, and Gabe Silva Reina, sophomores.
"We had some great individual swims tonight, even with our young new guys," said coach Mr. Greg Bartz, Mathematics.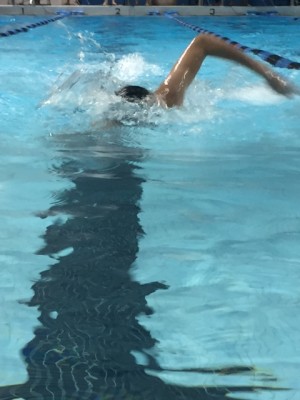 This summer, competitive sections were rearranged, putting the Royals in a section with St. Paul Academy, Minneapolis Southwest, and Cretin-Derham Hall. Only HHS, Edina, and St. Louis Park are returning teams in the section.
This change in the conference has the Royals feeling confident, considering the fact that highly competitive and successful teams like Minnetonka and Eden Prairie are no longer in their section.
"I think Hopkins Swim and Dive will be much more successful in the new section due to the loss of some of the bigger and faster teams in our previous section," said Avi Bundt, sophomore.
Even with the new section, Bartz believes the team has lots of room for improvement, as Edina and St. Louis Park will remain hard contenders to beat.
"With it only being the third week, we still have a long way to go," Bartz said. "We have to work on starts, turns, streamlines, and not breathing in and out of the walls."
The Royals' next meet is the Blaine Invite on Dec. 19 at Northdale Middle School.