Player profile: Avery Martens-Goldman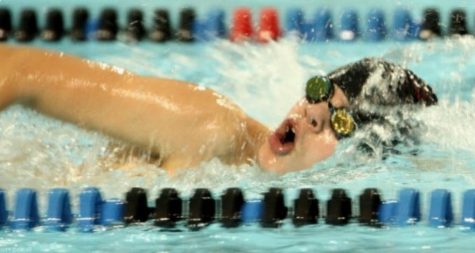 provided by Avery Martens-Goldman
Avery Martens-Goldman, junior and captain of the boys' swim/dive team, is looking forward to another breakout season for the Royals. Martens-Goldman is hopeful to make it back to state after qualifying in the 200 individual medley last season.
"I have high hopes for the season, Although our beloved coach of 19 years, Greg Bartz, stepped down, I believe our new coach [Jared Anderson] will bring some new and important perspective on the sport and training," Martens-Goldman said.
It was a very successful season last year for both Martens and the team as a whole. The Royals came in fifth at the Section 6AA meet and Martens-Goldman's qualification for the state meet also landed him the section championship in the event.
Although Martens-Goldman is considered one of the best swimmers in the state, he believes there is still room for improvement personally and throughout the team.
"Individually, I hope to improve my tempo and aggression; particularly with breastroke," Martens-Goldman said. "As a team, however, we must work together toward encouraging one another to work hard and succeed."
Martens-Goldman has been eager to get back in the pool this season, which begins Nov. 28, as he pushes for another state run and to see what the team can accomplish.