Gov. Tim Walz visits HHS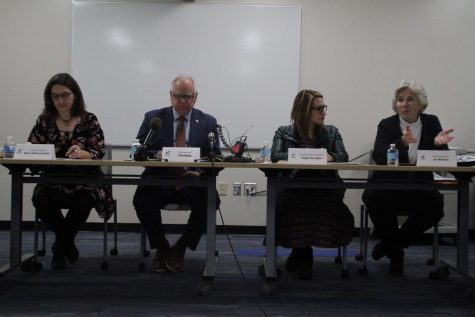 Governor Tim Walz and his administration looked to HHS students to teach adults how to combat the issue of student vaping.
On Oct. 22, eight HHS students participated in a private meeting with the governor and other state officials.
Gov. Walz openly talked with the students about the dangers, effects, misconceptions, prevention and the link between drug usage and mental health, and then he asked for their perspectives and ideas.
"Talking about nicotine and vape usage with students, has shown us that mental health is at the heart of this issue," Gov. Walz said. "We have the access, we have done and continue to do the research; we need to continue to encourage the self-awareness among students, while acknowledging this as a very serious issue."
Will Gitler and Max Wieland, seniors, Jens Dohse, Cassidy Allen, Claire Hering, Liv Steen and Ezana Tedla, juniors, and Yvette Ntegeye, sophomore, shared their personal experience and thoughts with the governor and his staff.
Gitler said that many students use vaping as a coping mechanism.
"One of the most important aspects [of vaping epidemic] is learning how to redirect people's mindset to be more compassionate," said Gitler, who recently quit smoking. "Instead we have to treat this issue as an addiction or a mental illness, rather than a crime."
Throughout the open-ended discussion with Gov. Walz, Gitler spoke candidly about this experience with nicotine usage and mental health. 
Gitler discussed the misconceptions that have gained popularity, among adolescents.
Midway through the discussion, Gov. Walz asked how the image of vaping can be seen as "less cool" moving forwards. 
He said Gitler taught him that a better strategy would be to help teens recognize the risks that follow nicotine usage.
"It's not that smoking cigarettes became less cool, it's that we came to recognize the dangers," Gitler said of his own decision to quit. "There will always be the archetype of the kid in a leather jacket, smoking a hand-rolled cigarette, but over time we learned that, as cool as he is, he's going to die in his mid-forties from lung disease."
Hering agreed.
"This issue isn't about whether a person is good or bad, in the end, it is about a person looking for a release," Hering said.
Other officials at the meeting included: Lieutenant Governor, Peggy Flanagan, Minn. State Health Commissioners Ms. Jan Malcolm and Ms. Mary Cathryn Ricker, the Minn. Department of Health, Director of Communications, Mr. Michael Schommer, were also participants in the meeting.
From the district, Mr. Doug Bullinger, principal, Dr. Rhonda Miripiri-Reed, superintendent, Ms. Jane Kleinman, health science, and Ms. Therese Kunick, school psychologist were present during the discussion.
Gov. Walz and his administration plan on visiting two more high schools this week, in St. Cloud and in Faribault, to further discuss the issue with high school students.
As the panel came to a close, Lt. Gov. Flanagan made one thing clear. 
"There is so much that needs to be talked about and accessible about this issue," Lt. Gov. Flanagan said. "The main message of this issue is as an adult, we have to tell the truth. Our youth deserve it."