"Puss In Boots: The Last Wish" Review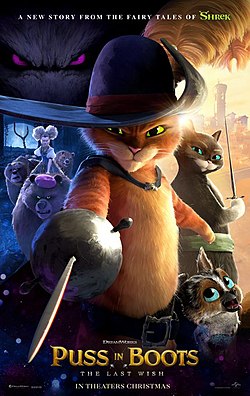 "Puss In Boots: The Last Wish" was an astounding film with key characteristics of great storytelling and filmmaking. It always amazes me when I see animated characters show such compelling and emotional stories. This movie had me on the edge of my seat with a smile from ear to ear for the entire runtime of 102 minutes.
The film begins with a classic Puss adventure as he saves a town from a giant rock monster. The fight choreography during the battle synchronized perfectly with the action music in the back. A detail that went unnoticed in the battle was when he was fighting the giant. There was a bell that rang 8 times.
Shortly after his victory, Puss wakes up in the doctor's office and the doctor tells him that he has died 8 times(hence the bell ringing in the fight). Puss gives up the outlaw life and buries his boots.
Once in retirement, the embodiment of death in the shape of a wolf comes to take away his final life. The rest of the film showcases what it means to be alive and value the time you have. Puss learns valuable lessons like not to run from what he fears and that there are more important things than himself.
The movie tugs at the viewer's heartstrings, leaving them wanting more Puss. A certain scene in the movie stands out to me because it shows Puss having a panic attack. It's a very emotional scene that encapsulates how a panic attack really may look and feel, which makes it so valuable in this day and age.
The movie teaches the viewer to be grateful for who they have around them and to love them deeply. I think it's very important to think about how we view relationships in high school, because just like in the film, we need to remember that this won't last forever. The relationships we build in high school have the opportunity to last a lifetime, but there is also the chance of an abrupt conclusion. We must value every second of these "good old days" we live in.
"Puss In Boots: The Last Wish" is truly an amazing piece of visual art that combines humor, action and drama to tell a brilliant story, while expanding upon the Shrek extended universe and being an incredible stand-alone film.