HHS baseball seizes training opportunities
April 21, 2017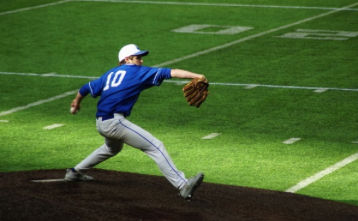 provided by Luke Polyak
HHS baseball plays 19 games in their regular season, which consists of almost six weeks. Needless to say, their season is short and busy, so what do they do the rest of the year? As a high school varsity team, it's important for players to be involved in some type of program in the off-season.
Beyond the high school season, many players utilize opportunities to gain experience, skills and playing time in front of college scouts. However, there are many different options when it comes to teams outside of the high school.
The first option, and seemingly the most common, is Hopkins American Legion. Luke Polyak, sophomore, made the varsity team as a freshman. Polyak is new to Legion and will play for the 19u Flyers this summer.
"I started legion because it was the next logical step from travel ball last year, and I had heard good things about the coaches and the program from guys who had played legion the year before."
Legion is an organization independent from the high school and it's part of statewide legion system that focuses on the development of players in a competitive environment. Polyak has decided to play Legion because of these reasons, but recognizes the challenges.
"I would say there are pros and cons to Legion," Polyak said. "The benefits are that it seems to get you good exposure to college coaches, and that it's a fun way to play lots of baseball over the summer, but the possible downside is that it's pretty intense, with lots of games and practices all summer long."
However, Polyak is prepared for the commitment it takes to play at an advanced level and is excited to improve.
"I'm looking forward to spending more time on the field with the team this summer and to hopefully make a run in the state tournament and win some games," Polyak said.
Another option players turn to is club baseball. Tommy Auth, junior, plays for the Twin Cities Baseball Academy. The difference between Legion and club teams is that there's a slightly increased focus on future collegiate baseball.
"I like TCBA because I get to play with friends from different schools and play against really good competition," Auth said.
Auth chooses to play with TCBA because he believes the competition is more rigorous and there are more opportunities to be seen by college scouts. Playing in tournaments in Georgia, Ohio and Indiana, Auth will be exposed to a variety of teams and coaches looking for prospects.
"[TCBA] prepares me because my coach, Brett Thorney, gives honest feedback of what needs to be improves and helps me do that," Auth said.