"Wednesday" Review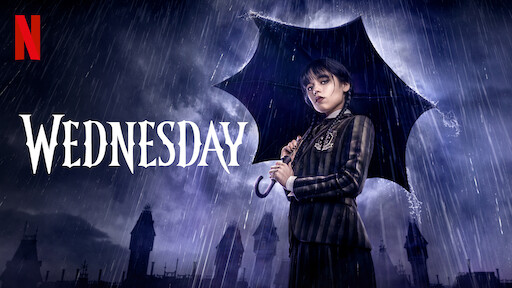 The new Netflix original "Wednesday" was recently released. "Wednesday," directed by the notorious Tim Burton, is a spin-off of the Addams family shows, movies, and cartoons that began in 1964.
The star of this new series is Jenna Ortega, the 20-year-old actress who got her start starring in the Disney Channel series, "Stuck in the Middle."
Christina Ricci is also a starring member of the cast. Ricci plays Marylin Thornhill, Wednesday's dorm mom. Christina previously played Wednesday in "The Addams Family" movies that premiered in the 1990's.
All of the previous "Addams Family" movies, shows, and cartoons have been extremely successful, so it was no shock that "Wednesday" was also a hit. 
Ortega perfectly encapsulates Wednesday's dark personality with her quick, witty, and dark humor, and her unique facial expressions. 
"He [Tim Burton] likes it when I tilt my chin down and look through my eyebrows, kind of like a Kubrick stare, and then I relax all the muscles in my face," said Ortega.  
In the series, Wednesday's right-hand man is her pet "Thing," a literal hand that does whatever she tells him to do. I really enjoyed watching Wednesday and Thing communicating and watching the way Thing moved. You can really see the conversations they have. Even though Thing can't actually respond verbally, it's easy to identify all of his emotions.
Throughout the series, there are a number of twists that help keep the audience intrigued, it seems to be a perfect mix of all things comedy, mystery and supernatural.
While watching the series, you can easily feel transported into a completely different world. The set, CGI, and graphics are perfectly curated to make it feel like an alternate reality. 
One of my favorite parts of the series is the multilevel storytelling, it gives you a deeper understanding of the overall story while  more depth to the individual characters. 
The producers of "Wednesday" released information that there will be a second season coming out in 2023. 
All in all I thought this series was entertaining and enjoyable. Go watch it to form your own opinion.