Staff Profile: Kendall Ray
Jan 19, 2023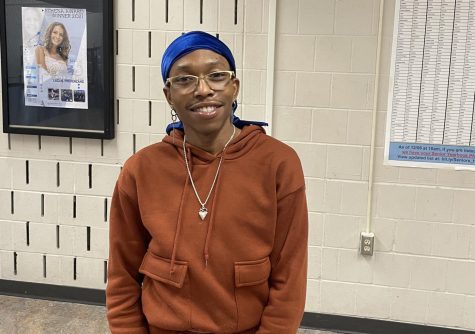 Kendall Ray, Dreamline coordinator, is re-inventing the classroom design game. The Dreamline mentorship program focuses on giving scholars individual guidance as well as a safe place to study and reset. With an eye-catching and engulfing room, the minute you step into the Dreamline space it is hard not to feel as though you've been teleported to a new world. 
While the decor is exciting, the message that Ray has implemented into not only his space but additionally his personal philosophy toward life makes him a wonderful addition to the HHS staff. 
"The main reason that I decorated my classroom this way was to innovate a new way to encourage scholars to do their work both mentally and emotionally," Ray said. "The routine of everyday life can be exhausting, so I wanted to create a space that is both nourishing and gives off good vibes to provide scholars with a place to relax and escape from the pressures of their outside stressors,"
Following his graduation from Patrick Henry High School in North Minneapolis, Ray attended NDSU. He entered into the highly competitive landscape architecture program his first year, being one of the 15 students out of 150 applicants who were accepted. 
Though shortly after entering the rigorous program, Ray knew it was not his passion. Oftentimes his professors would disapprove of his designs, saying they were too bright and bold. 
"Originally, I wasn't planning on being a teacher," Ray said. "Though when I realized that this generation is the beacon of hope for the future, I recognized how important it is to implement support, love, and care with you all. I want to be one of the good teachers that push students to reach their goals."
Ray's long educational journey only began with his journey at North Dakota State University. Following that, he spent two years at Minneapolis Community Technical College, earning an associate's degree in liberal arts and two years at Metropolitan State University, earning a BA in youth studies. 
To end his schooling, Ray is now in his first year of a three-year program at the University of Minnesota grad school pursuing a degree in school counseling. 
His time at MCTC gave him a degree and introduced him into the fashion world. After tie-dyeing a year jacket in a chemistry course, Ray realized this was yet another way to express his creativity.
After a few short months of working with his clothing, Ray held his first show in which he had 19 people walking for him and modeling his clothing. As of now, Ray has been involved in over 35 shows and has purchased an LLC. 
Aside from his work in fashion merchandising and creation, Ray also works in image consulting, birth chart readings, and interior design as both personal interests and paid endeavors.
Ray will be there if you ever crave fashion advice, information about your astrological sign, or are struggling with a personal or educational issue.