"Midnights" Review
Oct 24, 2022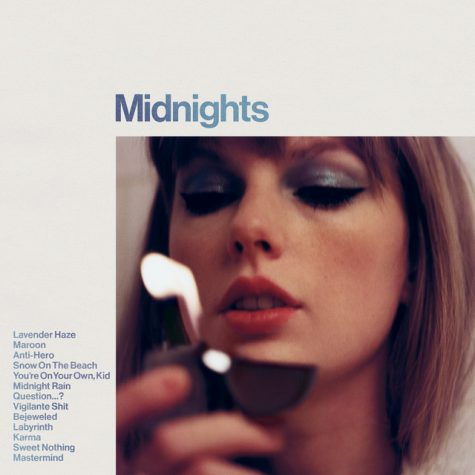 Taylor Swift has released her 10th studio album "Midnights," a dreamy synth-pop ode to late hours. 
Swift describes the album as, "the stories of 13 sleepless nights scattered throughout my life."
Fans were immediately delighted to see Swift taking a pivot back to the pop sounds of past albums like "1989," "reputation" and "Lover." 
"Midnights" is another collaboration with Jack Antonoff, who began working with Swift during her production of "1989" in 2014. The two have been a powerhouse in the pop scene ever since creating iconic songs such as "Getaway Car," "August" and "Cruel Summer" together. 
I'll only be reviewing the core 13 songs from "Midnights," not the additional "3am Tracks" included in the deluxe edition. 
Lavender Haze
"Lavender Haze" clearly sets the tone of this album, like any first track should. The soothing synths and warped vocals create a dreaminess perfect for the title. 
This song seems to be about her current relationship with Joe Alwyn and finding refuge in their intimate moments. 
The image of purple gives a sense of sleepiness as well as lust. 
Swift complains about the media's perspective on her relationship with Alwyn. She is frustrated that, when she dates around she is deemed as sloppy. Now that she's in a long-term relationship, however, everyone wants her to start a family. 
She says, "The only kinda girl they see / Is a one night or a wife". 
The bridge seems very reminiscent of Conan Grey, specifically his song "Crush Culture."
Maroon
This song seems to be an ode to one of Swift's past partners. There has been speculation amongst fans regarding which ex Swift is referring to.
Some make a parallel to Swift's 4th album, "Red," an album prominently written about Jake Gyllenhaal. Fans have suggested that maroon is a more mature shade of red, therefore, this is Swift looking back with newfound wisdom. 
The second verse alludes to a nasty breakup, which also connects to earlier songs about Gyllenhaal. 
Swift says, "Sobbing with your head in your hands / Ain't that the way s*** always ends?"
Regardless, the song is very reminiscent of Swift's "reputation" era, specifically the song, "Dress."
The 808 drum beat and (again) sweeping synths give the song a dark, dingy feel, perfectly aligning with the lyrics. 
Anti-Hero
"Anti-Hero" is one of the somber songs on "Midnights." Swift grapples with feelings of self-loathing, something many of her fans can relate to. 
Swift says, "I should not be left to my own devices / They come with prices and vices, I end up in crisis."
Where the first two tracks of "Midnights" showed the romantic aspect of Swift's nightlife, "Anti-Hero" is ugly and confessional. The lyrics contrast with a catchy chorus and upbeat sound. 
She also expresses worries that all the people she loves will eventually leave her. 
"One day, I'll watch as you're leaving / 'Cause you got tired of my scheming". 
"Anti-Hero" is definitely a standout track and is extremely accessible to Swift's more casual listening audience. 
Snow On The Beach (feat. Lana Del Ray)
Where was Lana? That's all I could think when listening to this song. 
It seems odd to feature an artist with such a die-hard fanbase and only use her for background vocals. Lana Del Ray has such a distinctively beautiful voice, and a verse on this song would've brought it to the next level. Sadly, Del Ray only really sings the harmony here. 
Apart from that let-down, "Snow On The Beach" has some really beautiful lyricism. 
You're On Your Own, Kid
Another reflective song, "You're On Your Own, Kid" seems to be reminiscing on Swift's desire to be liked by those around her. From unrequited love to becoming a socialite, Swift describes the toll it took on her to become this idealized version of herself. 
Swift says, "I hosted parties and starved my body," suggesting these beauty standards led her to develop an eating disorder. 
The song ends optimistically with the line, "You're on your own, kid / Yeah, you can face this," where Swift speaks from her current perspective, acknowledging the growth she's made. 
The melody in this song is one of my favorites across the whole album. It has a yearning, racing quality, crescendoing into the final verse in which Swift reaches her final understanding. 
Midnight Rain
I'm personally not a fan of the vocal editing used in the first two choruses of this song. "Midnight Rain" seems much more stripped down than other songs on "Midnights." Most of the accompaniment is just bass and drums. 
This is another song about a breakup, however, "Midnight Rain" seems to discuss events earlier in Swift's career. It seems as though Swift is alluding to a teenage romance in her hometown that ended due to her ambition. 
Swift says, "I broke his heart 'cause he was nice." 
She further explains the conflict between young love and her big plans to become famous. 
"He wanted a bride / I was making my own name / Chasing that fame." 
Question…?
The first line of "Question…?" sounds exactly like a line from the chorus of "Out of the Woods," from "1989." Perhaps this is just Swift comparing the two works. More likely, however, the song could be about Harry Styles, Swift's ex during the writing of "1989."
Fans have connected the lyric, "Did you ever have someone kiss you in a crowded room," with a video of Styles and Swift sharing a New Year's kiss in 2013. 
The song has the messy vibe of other songs Swift has written about Styles, namely, "Style", in which she describes late-night meetings. 
This can be compared to lines like, "Did you leave her house in the middle of the night?"
This song is very enjoyable, especially for someone who first fell in love with Swift through "1989," as this is so reminiscent of that album. 
Vigilante S***
The bass is boosted on Track 8. 
Swift describes getting revenge on a man, likely for cheating on his wife. Similar to "no body, no crime" from Swift's last album, "evermore," Swift is wreaking havoc and taking names.
Fans have speculated that "Vigilante S***" is about Scooter Braun. The entrepreneur purchased Swift's former record label, Big Machine Records, in 2019. He sold the creative rights to all of Swift's work to a private company for $300 million. This action sparked Swift's decision to re-record all of her albums. 
"Vigilante S***" indicates that Swift's shadiness towards Braun didn't stop with the re-releases. 
Swift touches on Braun's promiscuous activity. It seems she presented proof of this misbehavior to his wife. Ouch. 
Bejeweled
"Bejeweled" is about Swift feeling underappreciated by a past lover. 
She talks about feeling empowered and beautiful despite not being "in their top five." 
Many think this song is about the falling out Swift had with DJ Calvin Harris. Many think the relationship ended due to Swift meeting actor Tom Hiddleston at the 2016 Met Gala. 
Perhaps, feeling ignored by Harris, appearing at the Met Gala felt dignifying. 
The addition of twinkling chimes adds to the shining, glittering imagery.
Labyrinth
The vocals on this song are angelic. Each verse holds all of the delicacies of Swift's daintier works such as "folklore" and "evermore." This song is further proof of her versatility as a writer. 
While the lyrics are reminiscent of her pop-folk era, the synths in this song are immediately recognizable as being similar to "Clean," or other softer songs from "1989."
Karma 
It is undisputed that this is the best song on this album. "Karma" is literally addictive. The way Swift crafts each lyric is so pleasing to the ears. 
Swift is best when she is petty, and I live by that philosophy. This song is again about Scooter Braun (see "Vigilante S***"). She describes, calmly, that he will get what's coming. 
Swift explains that karma is her friend, working towards her interests, through a series of metaphors in the chorus. 
"'Cause karma is my boyfriend / Karma is a god / Karma is the breeze in my hair on the weekend / Karma's a relaxing thought / Aren't you envious that for you it's not?"
The breakdown leading into the final chorus is my favorite part. Swift strips away the drums leaving these ethereal chords. When she sings, "Karma is a bounty hunter / Karma's gonna track you down / Step by step from town to town,"…chills. 
Sweet Nothing
This song was co-written by Alwyn under the pseudonym William Bowery. 
"Sweet Nothing" talks about the simplicity of Swift and Alwyn's relationship. They feel comfortable being honest and vulnerable with each other. The two also describe the sanctuary that has become their home together. 
"I find myself running home to your sweet nothings."
They express the relief it has been to have no responsibilities or expectations within a relationship.  
Mastermind
The arpeggios that introduce this track are really pleasing. They create a sense of finality indicating the album has come to a close. 
"Mastermind" describes Swift's hand in making her crush fall for her. 
She says, "And now you're mine / It was all by design / 'Cause I'm a mastermind."
This song could be relatable to a lot of women that have manipulated or controlled a flirtatious relationship, especially one with a man. Many women are intelligent enough to make a guy fall for them and allow the guy to think he feels that way on his own accord.  
Swift acknowledges this historic tradition when she says, "You see all the wisest women had to do it this way."
Final Thoughts
Overall, this album was a wonderful return to pop for Swift. The only song I really couldn't get into was "Midnight Rain," but I still think the lyricism was there. 
No matter what genre, Swift is known for concept albums just like "Midnights." Every piece of work she's released (perhaps omitting her self-titled) has clearly been well thought out both on the broad and individual-song level. 
It's no wonder her fans consider each album an "era" like so many other iconic artists of the past. This record is not excluded.  
The ability to create a cohesive theme throughout 13 songs is no small act. The fact that Swift does this so consistently is even more impressive. 
In conclusion, go listen to "Karma" right now.