Student Spotlight: Eva Hernandez-Organists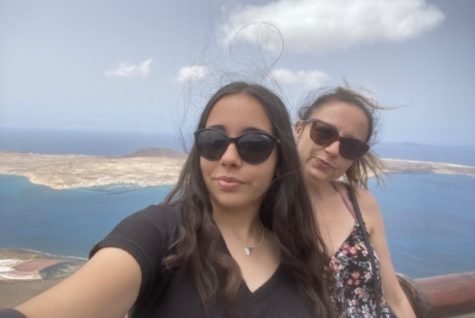 Eva Hernandez-Organists, junior, is one of the new HHS exchange students for the 2022-23 school year. Eva traveled to Minnesota from her hometown of Madrid, Spain. In Spain, she attended a small school that included all grade levels and had a student body of 1,000 students, so to say the least, attending HHS has been a substantial change.
Originally, Hernandez-Organists was drawn to the U.S due to its welcoming nature, high school spirit she had often seen portrayed in the media, and the ability to compete on sports teams through school. 
Since the young age of five years old, she has played tennis competitively and will be competing on the HHS Girls Tennis team, something she hasn't been able to do before. 
Hernandez-Organists signed up to become an exchange student through an agency in Spain. There, she acquired all her necessary paperwork and created a profile of herself for host families in the United States to choose from. 
"The host family chooses you; you can't choose them," said Hernandez-Organists.
She didn't think this was a concern, unlike many of her peers. 
"The families are kind and want to host you without any personal benefit for them," said Hernandez-Organists, explaining how she knew she could trust her host family even if she couldn't choose them. 
While she is now in a much larger school with fewer grades, everyone has been extremely kind and helpful. Hernandez-Organists recommends this experience to everyone as it helps you grow significantly as a person during such a crucial developmental time in your life.