Player Profile: Avery Petty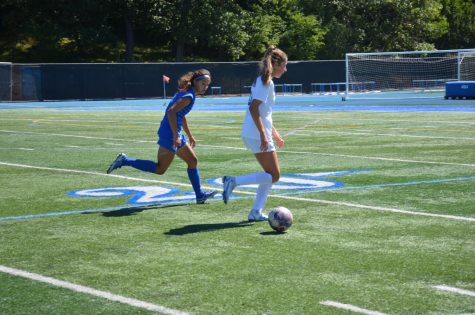 Avery Petty is a junior at Hopkins High School and one of the captains of the girl's soccer team. She's been playing soccer ever since she could walk.
"Soccer is the only sport I've ever played," Petty said. "I've been doing it all my life, so it's just kind of my normal." 
She has been on the varsity team since eighth grade and continues to be successful as a person and a player. In her final years of high school, some of the things she wants to achieve include making first team all-state and winning a state championship.
Petty has learned a lot from her years on the team, and wants others to be able to learn from her as well. 
"It's basic, but I've learned not to stop and never give up because there were definitely times before where I wasn't doing my best," Petty said.
In the past year, Petty has gotten a lot more confident on the field. She is nervous for every game, but sets high expectations for herself. 
"I started playing for myself, not for others, and that really changed how I play," Petty said.
Because of her hard work as a player and person, Petty recently committed to the University of Minnesota to continue her athletic and academic career after graduation.
One of the reasons Petty chose the Gophers over other universities is because of her love for her home state. 
"I love Minnesota and have always wanted to represent it," Petty said. 
It has been her dream to play power five soccer and she is on track to accomplish that.
Petty would love to play professionally after college, but there is some adversity that stands in her way.
"If I could play professionally, I would," Petty said. "It's definitely hard when you're a female wanting to play soccer out of college because it's not as advertised as other sports."
She wants people to know her as a good person on and off the field. 
"I want to be the best version of myself in both ways," Petty said.
Petty is just as remarkable of a person as she is a player and lights up the HHS community simply by being herself.