Gronkowski brothers shock HHS students with a surprise appearance
May 16, 2022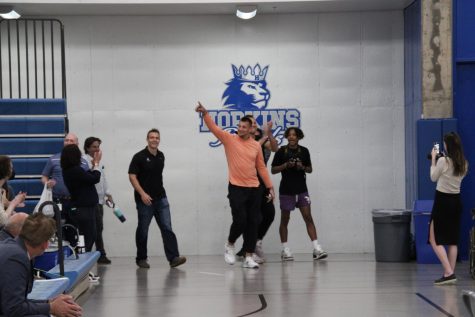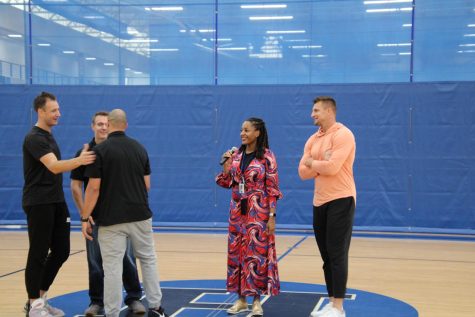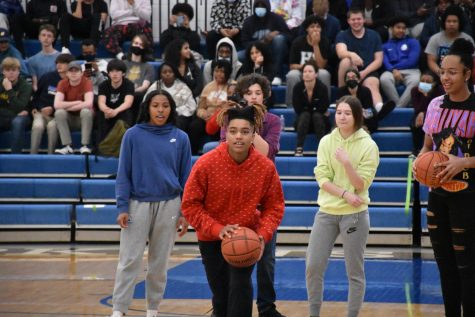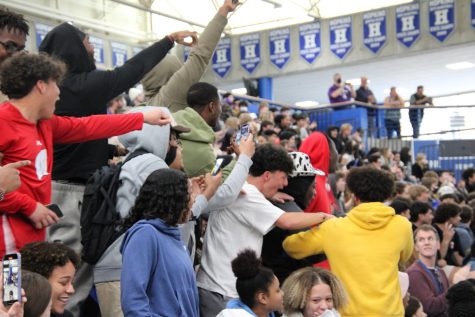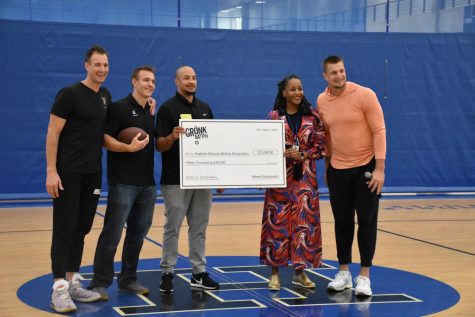 On Monday, May 9, students were told that a surprise celebrity speaker would be coming to present. Rumors spread of celebrities like Paige Bueckers to the standard mental health speakers, but all were surprised when the speakers arrived.
Chris, Rob "Gronk," and Gordie Gronkowski arrived at HHS with excitement from students and staff alike. Noone expected NFL tight end Gronk, former NFL fullback and now entrepreneur Chris, and former minor league baseball player Gordie to come to a school they had no former affiliation with. 
Chris' company Ice Shaker became famous from his "Shark Tank" feature for an innovative product that blends protein drinks with just a few ice cubes instead of the traditional ball while keeping drinks ice cold for hours.
Jared Ellerson, Hopkins' incoming athletic director, knew someone Chris was coming to Minneapolis for business to meet and told the Gronkowskis about the strong athletic program at HHS, bringing Rob and Grody with him to donate $15,000 to the Hopkins Schools Athletic Program from Gronk Nation, specifically for girls sports.
Women are historically underrepresented and underfunded when it comes to sports. The donation to highlight girls' sports is not usually seen but is well deserved. HHS has produced several female star athletes and won numerous championships in girl's basketball alone.
"I believe in playing many sports throughout high school," Rob said. "It creates a foundation for success by building your body and knowledge for your future."
The Gronk Nation Youth Foundation is the Gronkowski family's non-profit "dedicated to inspiring youth to reach their maximum potential through sports, education, community and fitness." After learning about Hopkins, they felt that the well-known program would be the perfect place to donate to as HHS strives for excellence in athletics and academics.
"Education is huge, but athletics are just as big," Rob said. "Athletics teaches you teamwork, and utilizing these skills can also help out of sports."
Rob gave a short speech and then introduced a three-point contest with four girls varsity basketball team; Alayna Contreras and Maya Nnaji, seniors; Kelly Boyle, junior; and Liv McGill, sophomore.
The girls went first in the competition with a strong lead, to which the Gronkowskis pushed back with what many thought would be a winning half-court shot from Rob. In the end, the girls emerged as the champions after Boyle completed the final half-court shot.
They ended the presentation with Rob's famously known "Gronk Spike," which led students to run up to the court and celebrate with Rob and his brothers, an experience that HHS will not forget.
The Gronkowskis later had a formal conversation with Nnaji as she will be attending University of Arizona next year, just as Rob and Chris had. 
This connection between Gronk Nation and Hopkins is something the athletic department hopes to have. The support from such a well known family of athletes is encouraging to all aspiring athletes at HHS.