Recent rise in carjackings strikes Minneapolis area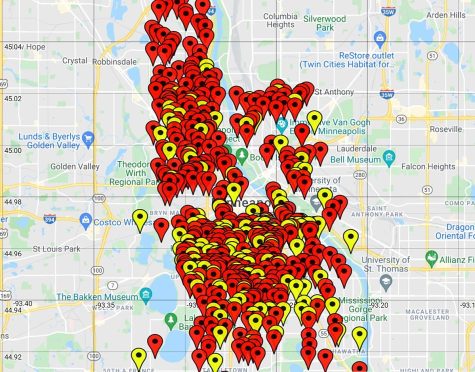 When Andre Kristal, senior, went looking for his missing wallet in his car outside of his house, he found many of his things sifted through and many of his possessions missing. 
Kristal's glove compartment was open, his hat, jacket, backpack and wallet were all missing. 
"I drive with a lot more caution now, and I always make sure to keep my car locked and my valuable things on me at all times," Kristal said.
He now always makes sure to park in a safe area with very visible surroundings. 
Andre has shared this experience with many people in Minnesota, and some have had far more dangerous encounters in the form of carjackings.
"I'm constantly looking around and making sure that nobody is looking at me when I'm getting out of my car," Kristal said. "I'm just lucky that I wasn't in the car when my things were stolen because that could have been really scary."
A carjacking is the act of violently stealing an occupied car. This can mean that someone was held at gunpoint, with a knife or with a threat of violence. 
These experiences can seriously hurt someone physically and/or mentally and can leave them with permanent scars. 
In the first 27 days of 2022 there were 12 reported carjackings in Minnesota. The amount of carjackings have been rising at a stunning rate as seen in 2021 with a reported 640 attempted or successful carjackings in Minneapolis alone. 
Out of the 138 carjackings in Hennepin County in 2021, at least 94 of these were successfully carried out by juveniles.
According to Kare 11 News, while it may seem that the narrative shows that this crime is primarily being done by young teens, the numbers are only so staggering because they are the ones getting caught. They also note that with the increased complexity in key fob technology there are more attempted carjackings that turn unsuccessful.  
Some things to look out for when driving are parking in well-lit areas, locking your car while driving, avoid driving alone at night and never stop for stranded strangers on the side of the road. 
Another important tip is to keep your garage door opener in a safe and not visible spot so in the event of a carjacking nobody has access to your house.