Bueckers big deal
December 15, 2021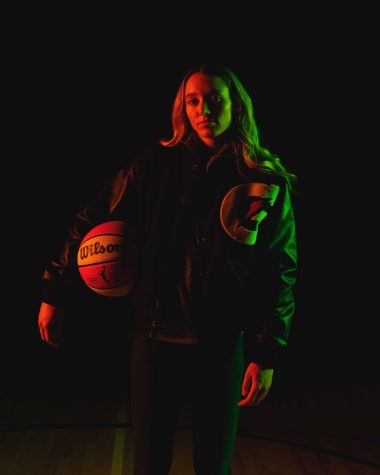 Paige Bueckers, HHS alum basketball star, has joined the Gatorade family with big names such as Michael Jordan, Serena Williams, and Tiger Woods.
Bueckers had a record-breaking freshman year at the University of Connecticut, one of the top women's basketball NCAA programs. Bueckers holds back-to-back National Player of the Year awards and has just signed a deal to further her already impressive career. 
Many HHS basketball players can vouch for Bueckers's overall amazing spirit and influence. Sunaja Agara, junior, played side by side with Bueckers during their shared years at HHS, and is greatly impacted by Bueckers leadership in the basketball world.
"She is an icon to women's basketball," Agara said. "By accomplishing what she has shows that any little girl can accomplish those same goals."
This past July of 2021 a new rule was passed allowing college athletes to seek "NIL" deals. The new rule lets college athletes seek brand deals and sponsorships for their name, image and likeness; the ability to monetize this has revolutionized the business of college sports. 
"I think this is a great opportunity," Agara said. "We finally as athletes get to make money for our hard work and dedication. It's also a good opportunity to get our name out as a brand." 
On November 29, 2021, Gatorade announced their first-ever brand deal with a college athlete, which happened to be Bueckers. This is just one more groundbreaking milestone in her career as the youngest athlete to sign with this major of a company. 
The famous sports-drink brand, Gatorade, started their relationship with Bueckers when she first won the Gatorade Player of the Year award. This new endorsement between the two is a big move not only for Bueckers, but for the NCAA community as a whole. 
"From her electrifying performances on the court to fueling change off of it, Paige exemplifies everything it means to be a Gatorade athlete, and partnering with her is a statement to the next generation of our continued commitment to women in sport," Jeff Kearney, global head of sports marketing at Gatorade, said.
Not only is Bueckers in the spotlight of college athletics, but her accomplishments hit close to home for the HHS community, as she inspired many and was a leader in the community. Bueckers won the Athena award here at HHS, representing her leadership in women's sports. As Bueckers progresses in her bright future, her roots will always remain tied to Hopkins.