Students already hard at work after the first day of school
Sep 3, 2021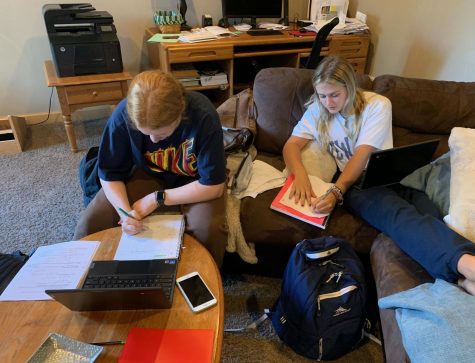 Whether it be the excitement of acquainting with a new schedule or the feeling of familiarity when easing back into a routine, back-to-school is a significant time highly anticipated by students all over the world.
With the decision made by HHS to return to in person learning, it's clear some portion of normalcy seems to be on the horizon. Sensing a glimpse into a typical school year after learning virtually for nearly two, a vast amount of opportunity awaits causing a spike in productivity amongst students.
Heightened productivity in the early months of the school year is not an unreported concept. In fact, students find this productivity peak a habitual response to being back in school. 
"At the beginning of school, there is a lot of excitement around the new school year and that excitement for me transfers over to work and my productivity level," said Ailbe Greeley, sophomore. "As the year goes on, the excitement goes down and so does my productivity." 
According to Sunnybrook Health Science Center, during late summer and early fall students concentrated better and had improved memory, focus, and thinking skills, which lead to greater productivity. Thus explaining the cooler months leading many to a lack in drive and motivation.
As back to school is coming through in full force, students are quickly getting back into the swing of things and beginning the path to productivity.