VF Corporation acquires Supreme brand
November 13, 2020
You've probably seen the bright red, glossy sticker plastered across a Chromebook at some point during your high school career. The company Supreme is an integral part of fashion in high school, similar to Golf Wang created by Tyler, the Creator, or lesser-known brands like Palace Skateboards.
What started as a simple skateboard company in New York in 1994 quickly gained popularity, almost too quickly for their own good. Supreme started collaborating with companies like Swarovski, Comme des Garçons, Nike, Nalgene, and the list goes on.
The items they were producing became coveted "pieces" in a person's closet, in some cases going for thousands of dollars.
"Supreme was able to gain so much respect because of the way they sell products as 'limited edition.' With new drops always having creative collaborations, it draws in people from a wide range of fashion taste," said Bergen Huseth, junior. "Another reason I think they have been able to gain so much hype is because of how iconic their classic box logo is, and how it can be recognized by virtually anybody, anywhere."
The box logo Huseth refers to only drops twice every year. The simple design is the same one seen on all of their stickers, a red box with their name through the middle. 
Supreme releases a tee-shirt version of this during their Spring/Summer season, and crewneck or sweatshirt during their Fall/Winter season. It's become one of the most sought after pieces in streetwear and resells for upwards of a thousand dollars on websites like StockX and Grailed.
But, after Supreme was bought for $2.1 billion by VF Corporation on Nov. 9, people are nervous about what this change will bring for the brand.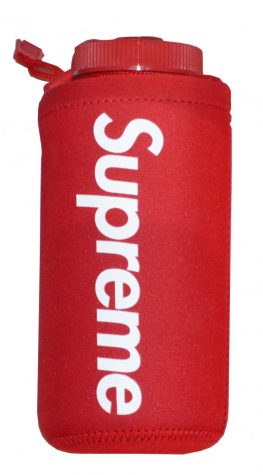 Other than the recently acquired Supreme, VF Corp also owns brands like Vans, Timberland, Dickies, and The North Face (TNF). They've brought brands back from the dead, seen with the classic Dickies pants that are now worn by skaters and students alike. 
The difference between Dickies and Supreme is extreme, though. Supreme doesn't need any revitalizing, and mass production would simply kill the uniqueness of the brand. 
"By making the amount of product lower and harder to get, for example when things sell out in three seconds, it makes it feel more exclusive," said Julia Amato, senior. "If you get things off drop it's not crazy expensive, but it can resell for lots of money."
After being purchased, people are worried about the future of Supreme. Mass production would lead to a decline in the exclusiveness, but students are also hoping it will allow the brand to go back to their skateboarding roots.
"I don't think they'll lose their popularity after being bought because the same people are in charge of the company. I think being bought will only open up more doors for Supreme to do more collabs and release more creative pieces of clothing," Huseth said. "I would really love to see them integrate more of skate culture back into their drops in the near future."
It's difficult to say if Supreme will be on the shelves of Zumiez and TJ Maxx, or if this will allow them to only expand their company, gaining more popularity while maintaining the support of those who have stuck with them throughout the years.
Supreme has continued to be the pinnacle of streetwear and skateboarding for 26 years and, hopefully, they'll continue this run during a new chapter of their company's long history.