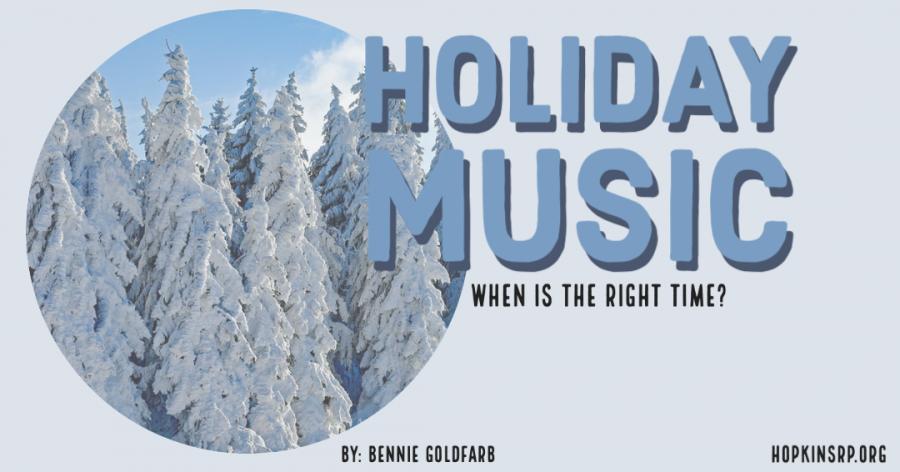 When is the right time to start listening to holiday music?
November 13, 2020
Exponential growth is seen in several real-life instances. A person's savings account is compounded quarterly to earn interest, or someone watches as a bacteria population quickly doubles in a petri dish.
But there's another annual trend that grows in popularity and crashes just as fast: Holiday music. 
Most people listen to artists like Lorde, Drake, or Brent Faiyez throughout the year, but once November rolls around, there is an entirely new genre they obsess over.
Mariah Carey's "All I Want for Christmas Is You" makes its way through the most popular songs to the top of the charts for about a month. Other popular songs like "Under The Mistletoe" by Justin Bieber and classics like "It's the Most Wonderful Time of the Year" by Andy Williams follow in quick succession too.
You don't have to celebrate these holidays to understand the warm feeling of drinking hot chocolate by your yule log while it snows outside. But if these holiday festivities begin on Nov. 1, and end in December, when is an acceptable time to start listening to the music?
"Holiday music is for all times of the year. It definitely hits differently when there's snow on the ground, though," said Jordan Kuhl, sophomore. "To be frank, I would never shy away from a good O'Hanukkah, ever. No matter the time of the year."
Kuhl isn't the only person to hold this belief, but some people think that holiday music the entire year is aggressive. Lucy Daniels, senior, loves holiday music but understands the limitations to it as well.
"After Halloween is over, it's time for the holiday music," Daniels said. "My favorite song during the season has to be 'All I Want for Christmas Is You.'"
The music is only a minor part of November and December, and the family time associated with it is ultimately more important than these smaller traditions. 
"I celebrate Hanukkah with my mom's side, but I also celebrate Christmas with my dad's side, and part of my moms," Kuhl said. "It all really ends up being a blur. Overall, it's just a lot of love and family time. All the religions in my family end up just melting together."
The holiday season, despite being stressful for parents and a grind for students right before winter break, is a time when everyone can finally relax in each other's company.
Whether you enjoy it or not, the music and traditions associated with these holidays will continue to be celebrated annually. Whatever you partake in, try to spend it surrounded by the people you love. With, of course, Michael Bublé singing to you on his deluxe special edition album.