Album review: Colour Green by Sibylle Baier
May 28, 2020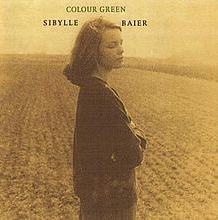 My quarantine has been far from peaceful, but I am grateful for the time it has given me to listen to more music. 
The sheer amount of music released in the past few months, lining up perfectly with quarantine, such as Conan Gray's Kid Krow and Fiona Apple's Fetch the Bolt Cutters, has also helped. However, quarantine has also introduced me to music that although new to me, was released years ago. 
One of these artists is German folk singer, Sibylle Baier. My friend recommended her album "Colour Green." One thing that my friend told me that really intrigued me about this particular album is that although it was mostly written in the 1970s, Baier did not release it until 2006.
Given my curiosity and my friend's recommendation, I gave the album a listen and was pleasantly surprised. 
Her most famous song is "I Lost Something in the Hills." The record has a very haunting, yet delicate tone. Baier's melancholically beautiful voice makes you feel like you are driving in the countryside of an Eastern European country at night. 
The titular song "Colour Green" has slight undertones of the Gregorian Chant music I grew up hearing in church, thanks to my Catholic upbringing. 
"Give Me a Smile" was probably my favorite. The dramatic instrumentals and nostalgic undertones give off Alice in Wonderland vibes. It is playful, yet elegant. 
Although I have only gone into details about three of her songs, there are 14 songs on the album in total. The album tracklist flows well and none of the songs are too long.
From Baier's feathery vocals to the eloquent lyrics, "Colour Green" makes for a perfect album to listen to while looking out the window.