The 15 greatest rap songs of all time: Number 2
May 20, 2020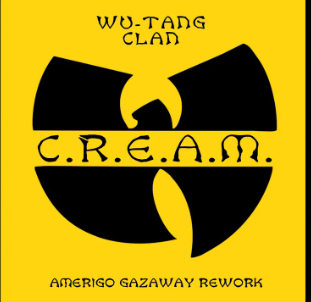 Wu-Tang Clan – "C.R.E.A.M" (1993)
The most influential song off one of the most influential albums in hip hop history, "C.R.E.A.M." from the lauded Wu-Tang Clan has inspired a great deal of MC's in their quest to speak on the grimy way of life in the various boroughs in New York City. It is essential for any fan of the craft, and it is no different for me.
As any stan of The Clan will tell you, the acronym C.R.E.A.M. signifies "Cash Rules Everything Around Me. On the surface, that phrase seems like glamorous gloating, but in reality, it is a depressing look into the hustling and scrapping necessary to survive poverty. Money is power and those who lack money conversely lack power, so people in tough predicaments must resort to extreme lengths to get money and power.
Chef Raekwon spins his war stories about what he did to acquire his wealth in his days before rapping while opening up with the lauded bars, "I grew up on the crime side/The New York Times side," because his own Park Hill projects were frequently put on the front page to show how the media tended to only cover the negative aspects of black life, according to Wu-Tang ringleader RZA in The Wu-Tang Manual. He recounts robbing drug-selling spots around Staten Island and sticking up white kids on basketball courts to get by before he started moving into the more lucrative field of selling his drugs for thousands each week.
Rae doesn't recount this to show that he's tough or wants to glorify any aspect of this lifestyle. Gloom and regret still linger from the fact that he had to make those ill-advised decisions to make money and survive. The money had a grip on him and influenced every decision he made.
Method Man's chorus became one of the most repeated and commonly used phrases in modern music due to its simplicity and universality. It could be twisted as a boast or it could be portrayed in the way that he and the rest of the group intended it.
Inspectah Deck's verse is just as grim as Raekwon's, as he ends up going to jail for his cash-earning activities, leaving, and comes to the hopeless conclusion that, "Livin' in the world no different than a cell." He then ventures into the world of drugs, where he only gets a temporary escape from the depressing reality around him but realizes that it's only temporary and the depression remains. He ends the verse learning from his mistakes, gaining wisdom, and trying to preach that wisdom to youth who were in the same shoes that he wore.
It's a downtrodden rap classic, but the honest real-life parables from Rae, Method Man and Deck are presented not to lure kids into the world which they came from, but to prevent them from diving headfirst into that world.
The production is stellar, with RZA creating an alluring atmosphere with some gorgeous keys that transition seamlessly into a glistening sheen that is appropriate for the alluring nature of the cash that rules everything around the Wu-Tang Clan. I would also be remiss if I didn't shout out the dreary horns which trudge in slow-motion through the intro.
"C.R.E.A.M." only features the rapping from three of the NINE members from Wu-Tang Clan, but it is a benchmark of the collective's prowess and influence in the rap sphere.