The 15 greatest rap songs of all time: Number 5
May 14, 2020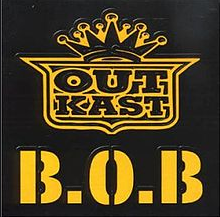 Outkast – "B.O.B" (2000)
Abide by Andre 3000's message on the chorus: "Don't pull this thang out, unless you plan to bang."
"B.O.B," known in the long-form as "Bombs Over Baghdad" is one of the most creative and high-energy rap bangers of all-time. Stankonia's final single puts the gas pedal to the floor and keeps the energy at the redline for the entire five minute run-time with no brake pedal in sight until the synth bass finally lets off.
Earthtone III served as the primary producer for this masterpiece, fusing Andre 3000 and Big Boi's southern hip hop flare with elements of rock and gospel into one epic super song. David Whild's guitar solo on the bridge is immaculate and firmly keeps the energy at 11 during the transition while the ATLiens recruited the help of the Morris Brown College Gospel Choir to add as background vocalists on the chorus and the driving force for the outro.
Andre and Big Boi matched the energy of the instrumental to a tee. While the title references dropping bombs on Baghdad, the capital of Iraq, the two MCs take a look at the state of the ghettos where they grew up in Atlanta. Towards the end of Andre's verse, he drops a telling line saying, "Go back home, things are wrong/Well not really, it was bad all along" to show that where he grew up hasn't improved from the time he grew up to the present time when he and Big Boi became famous.
Outkast proved that making music with a message doesn't mean that the song can't be wildly entertaining. Rolling Stone ranked "B.O.B." as the 50th greatest hip hop song of all-time while Pitchfork Media ranked it as the best song of the 2000s, regardless of genre. 
It is very difficult to not like "B.O.B" for being one of the most electric and hyped up songs in music history and serves as an example of just how innovative and instrumental Outkast was in bringing The South to the forefront.