Students enjoy Halloween at HHS
October 31, 2019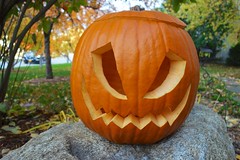 Creative Commons
Halloween is here. Thanks to festive students and a student council sponsored costume contest, the halls today consist of costumes.
By texting a member of student council or tagging the group on Instagram or Twitter, students in costume are able to enter to win. Whoever wins will receive recognition and a full size candy bar of their choice.
"I love Halloween. I love seeing all the little kids dressed up in cute costumes," said Nora Elbarbary, junior.
Since nostalgia is one of Elbarbary's favorite parts of Halloween, she decided that this year she would dress up as a classic candy. 
"I got a Fun Dip costume on Amazon because it was unique and reminds me of happy childhood memories," Elbarbary said. 
Overall, many students at HHS have been getting into the Halloween spirit this month, whether it was by carving pumpkins, buying excessive amounts of candy at Target, dressing up or posting something on Instagram with the caption spooky szn.