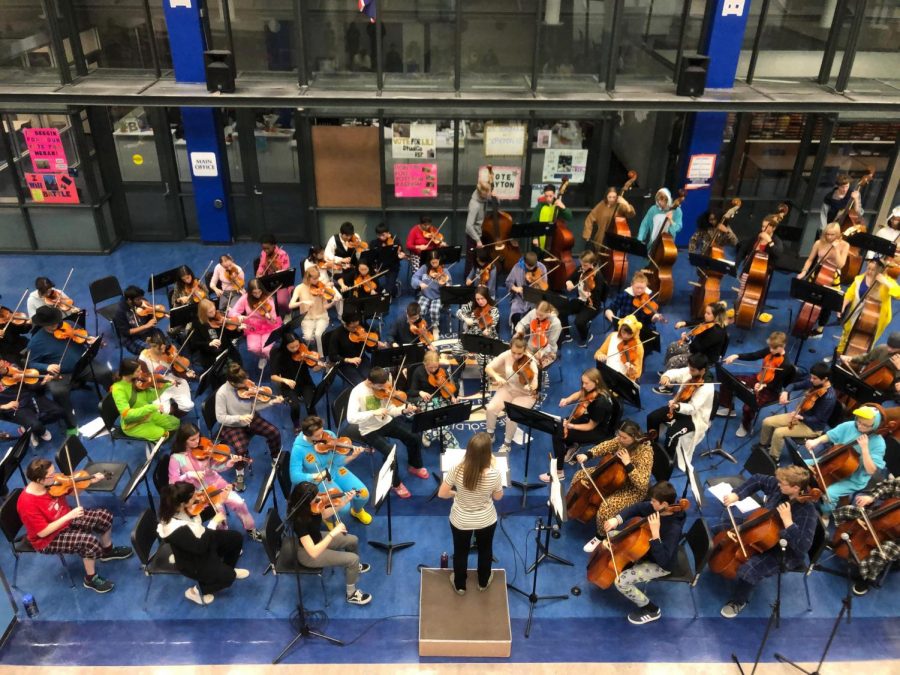 Orchestra hosts annual Children's Concert
October 25, 2019
On Oct. 24, the Philharmonic and Symphony Strings orchestras exchanged their formal attire for onesies and robes for their latest concert.
"I think this is a really good tradition because we are able to involve families within the district," said Skye Blaylark, senior. "The part of this concert's tradition is wearing pajamas, just to make it more fun and inviting, as well as to make it less intimidating for the kids."
This year marks year number nineteen for the Children's Concert, hosted by HHS. This event is extended to both Hopkins district families, as well as any other families within the community.
"This tradition also encourages children of a young to get involved with the music, and have more experience with the orchestra overall," Blaylark said. "These kids will have the opportunity to get involved with orchestra in the firth grade, so it's really cool to be able to play for them now."
As this was the first concert to kick-off the orchestra's year of musical production, the two orchestras had the opportunity to be conducted by the children in the audience for their last song of the night.
"Some might think that it's hard to play without our conductor, as the children come up and conduct, but in the end it's just another way to build community around the orchestra," Blaylark said. "The orchestra as a whole cohesive and focused enough to be able to keep going without our conductor."
Both divisions of the orchestra are conducted by Ms. Alison Swiggum, music.
In between the various selection pieces and Disney soundtrack arrangements, emcees Harper Malone, Faith Agboola and Sophie Norman, seniors, introduced each piece and featured individual musicians within the orchestra, with the help of their instruments.
Ruby Grudil, senior, was featured with her violin, Eli Brace, junior, was given an impromptu solo with his cello, Jenna Ashford, senior, was introduced as one of the multiple up-right bass players, as well as various other students throughout the night.
In addition to broadcasting one musician per string instrument, the annual Children's Concert includes percussion elements\; Jimmy Murphy and Holly Den Hartog, seniors, were invited to join the orchestra, with Murphy on drums and Den Hartog playing piano.
"Having percussion in our concerts adds another element to the orchestra and really helps people, especially the children, get into the concert," Blaylark said. "I will say, it is more difficult to keep track of everything because the drums are so loud, but the drums and the piano have great sound and creates a different feel."
Along with the concert itself, this musical tradition is continued on with entertainment and face painting for the children in attendance, in addition to being able to see high school students play their instruments in pajamas.
After the concert, the future musicians were able to meet some of the performers, as well as try playing their instruments.