Review: Girls basketball takes home a commanding win in state semifinals against Centennial
March 15, 2019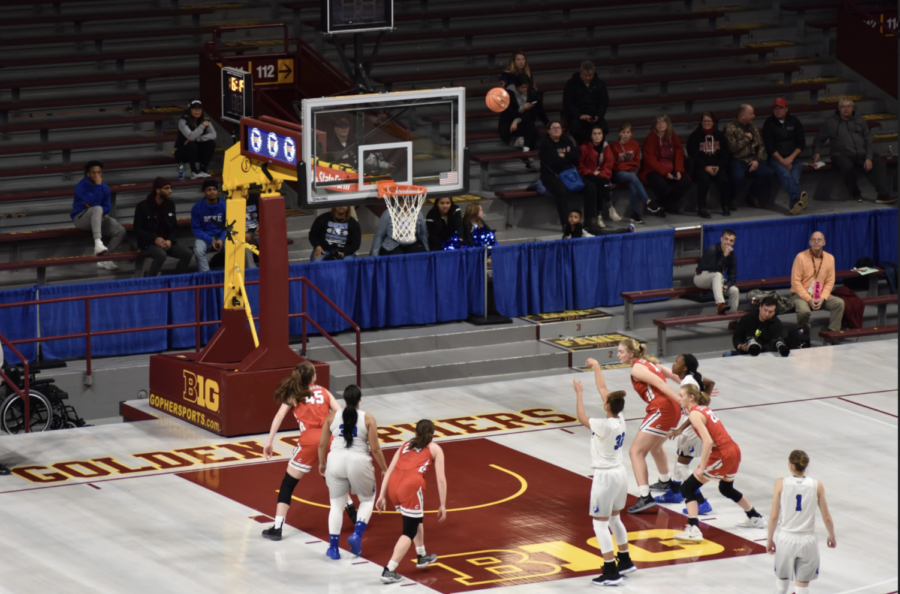 Review: Girls basketball takes home a commanding win in state semifinals against Centennial
Just when you thought Hopkins girls basketball team couldn't get more dominant, the Royals put on a clinic against the fourth-seeded Centennial Cougars and advance to their fifth straight Class 4A state tournament final by a score of 75-51.
Much like their quarterfinal win over Lakeville North on Wednesday, the Royals offense had difficulty getting the ball rolling. The struggles can be accredited to Centennial's 2-3 zone that keep Hopkins on the perimeter. The number one ranked team in Class 4A was held to 40% from the field in the first half.
Their shooting percentage only tells half the story though, as the Royals quickly controlled the game by going on a 19-3 run after ceding the opening basket.
That run was a classic case of defense leading to offense on the other end. The Royals played their scrappy, hard-nosed brand of defense that left their opponents looking for answers. Centennial only shot 7-25 and turned the ball over a whopping 21 times in the first half.
Hopkins' defensive performance was so outstanding, in fact, that Centennial's star senior Taylor McAuley said,"It feels like there's seven people on the court." McCauley, a finalist for the prestigious Minnesota Ms. Basketball award, was held to a meager five points in the loss.
Paige Bueckers, junior, paced the Royals with 17 points in the first half in addition to four steals and two blocks.
Right out of the locker room, however, the fortunes of the Royals offense picked up, as Bueckers scored seven points within the 1:10 of the second half to give Hopkins a distinct advantage.
Bueckers' success carried over to the rest of the team, as Hopkins shot over 60% from the field in the second half.
"I think we got some easy looks and we relaxed a little bit more. We got some transition baskets and we attacked a little bit more. Paige did an amazing job of making shots and finding her teammates," said Hopkins head coach Brian Cosgriff.
Bueckers scored a game-high 28 points and seven assists, while Dlayla Chakolis, senior, and Maya Nnaji, freshman, each hit double figures in the points column.
For Centennial, Sara Stapleton, senior, led the charge for the Cougars with 16 points and six boards.
The Royals will look to bring the state title back to Hopkins for the first time since 2015 on Saturday night at 8 P.M. against the winner of the second semifinal matchup between the second-ranked Stillwater Ponies and the third-ranked Eastview Lightning.