Q&A with HHS alumni and 'Spider-Man' character designer
December 20, 2018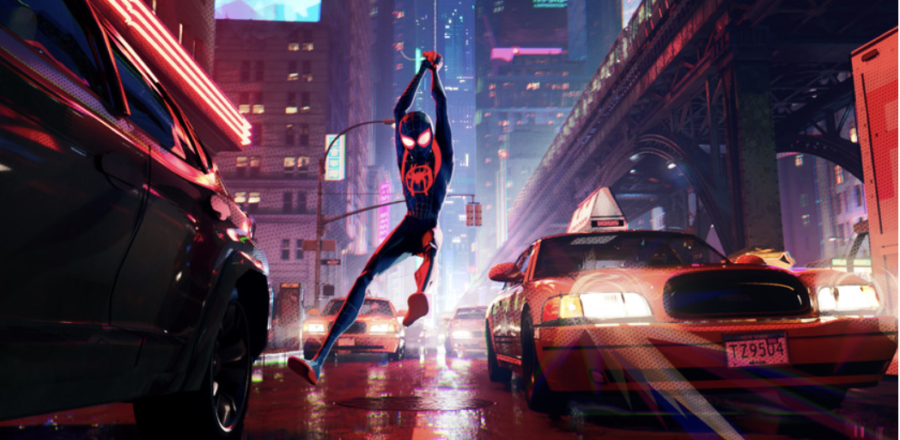 Early December, staff reporters from the Royal Page were invited to view an early screening of the animated feature, Spider-Man: Into the Spider-Verse. Additionally, they were granted the opportunity to interview a seasoned character designer on the film and former Hopkins alum, Tony Siruno.
Q: Would you consider yourself to be a Spider-Man fan?
A: Absolutely, a huge Spider-Man fan. This project was kind of a dream come true to be honest.. I've always dreamt of working on a superhero movie, let alone a Spider-Man movie. In hindsight, looking at what I've done for this movie, this is the best Spider-Man movie, period.
Q: Who would you say is your favorite Spider-Person, and why?
A: Out of all the Spider-People in the movie, I like Peter Parker, middle aged Peter Parker, because I think I can relate to him pretty well.
Q: What exactly does your job as a character designer entail?
A: Basically, we design the characters you see up on screen. We are typically given a script, we'll meet with a director, producer, and they give us an idea of the kind of characters they want to see, and then it's up to us to filter through those notes and come up with an image that encompasses their imagination.
Q: What was different about designing for Into the Spider-Verse as compared to other projects you've worked on?
A: Of course, we really tried to push the comic-book art style in this movie. Rather than trying to rely on the live action model of what a person would look like, we pulled inspiration straight from the comics. I used to design on big movies like Kung Fu Panda, How to Train your Dragon, The Secret Life of Pets… a lot of those movies were pretty much similar in approach, we weren't trying to make a comic book movie, we were just trying to make a good animated movie, with the kind of designs people can relate to, kind of photorealistic. With Into the Spider-Verse, we were really trying to capture the charm and what made comic books really special to anybody. Our thought was, "How can we capture the comic book aesthetic, how do we make that leap out of the page but still feel like a movie?"
Q: Did you get your start in animation here in Minnesota? What did your passion stem from?
A: I was always an artist, and I was always into comic books. When I was at Hopkins, I took a commercial art class, and my teacher taught me to embrace my passion if I really wanted to go into the art field. I went to the University of Minnesota, and I ended up pursuing a degree in Journalism with a minor in Comparative Literature, as they had no major in animation. During that time, I went to an animation film festival on campus where I met a guy by the name of Pete Docter, who had just started working at Pixar, and he recommended that I go to Cal Arts if I really wanted to pursue animation, so that's what I did.
Q: What advice do you have for young aspiring animators?

A: When I was at Hopkins, I was into sports. I did track, soccer, baseball and hockey, but art was always a constant in my life. So my advice would be, if they really have a passion for drawing, comics, or doing animation, then they should really try to find like-minded individuals, people who can encourage them, because it's really hard to do art when you're amongst people who don't really support what you're doing.