Zeke Nnaji commits to the University of Arizona for basketball
Nov 30, 2018
As college basketball has already started, the Arizona Wildcats is already looking loaded for the 2019 season.
This year the Wildcats have recruited two five-star guards, four-star forward and a promising three-star center and got a steal with HHS's very own star power forward Zeke Nnaji committing to Arizona on Nov. 23rd over UCLA, Purdue, UNC and many other colleges.
" I Knew that next year we're gonna be a great team with the other top players they're bringing in" said Nnaji.
The Wildcats currently have a 4-2 record to start the season with sophomore guard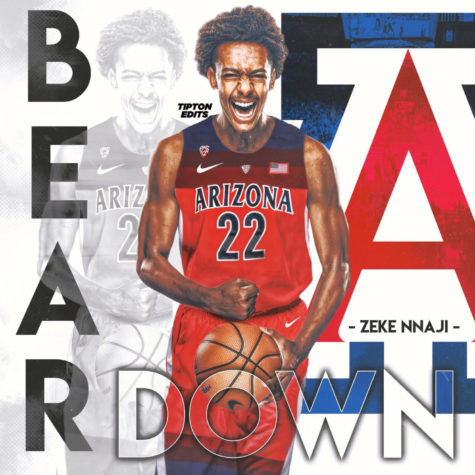 Brandon Randolph leading the team with 17.3 points per game.
Wildcats Head Coach Sean Miller is looking to bring his back to the march madness tournament and make a run.
Arizona got a steal with getting Nnaji over some of the best programs in the country in the nation like UCLA and UNC, who were actively recruiting him about a week before the announcement. The power forward/center averaged 19.9 points and 2.5 rebounds last year helping the Royals to a 26-2 record with former teammate Joe Hedstrom.
This year Nnaji and the Royals are aiming to win another state championship since the 2015-16 season with Ball State guard Ishmael El Amin.
According to 24/7 sports.com with the addition of Nnaji, Arizona is the #1 recruiting class of 2019 with 5 players commiting there with USC at #2. Arizona is a team to watchout for the tournament to make a run in the following 2019-20 season.