Boys basketball Big 12 Classic preview, look forward to tough matchup against East Ridge
November 29, 2018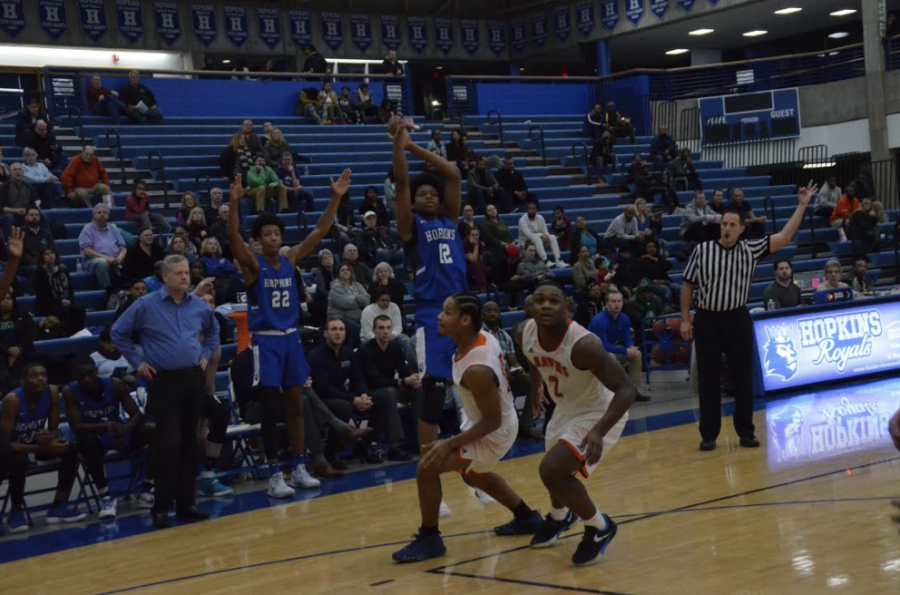 Boys basketball Big 12 Classic preview, look forward to tough matchup against East Ridge
Many of the states top ranked basketball teams will be in the Joe Mauer Fieldhouse at Cretin-Derham Hall this saturday.
The event replaces the boys games that were played at the Breakdown Girls Tip-Off Classic that is played at HHS in the Lindbergh Center and comes one week before the Boys Tip-Off Classic also played in the Lindbergh Center.
The Royals are getting ready to face the number one ranked East Ridge Raptors. The Raptors have recent University of Wisconsin Milwaukee signee Courtney Brown and class of 2020 forward Ben Carlson.
East Ridge is excited to start the season ranked as the best team in the state. An honor that the Raptors have never received in their 10 year history.
"It shows our hard work has paid off that we did in the offseason so it's a good feeling for our team", Carlson said.
It's a tough start for both teams as they may get a loss in their first game against one of the the tops teams in the state.
"It will be a really good game and our team is excited to get to play against them in our first game", Carlson said.
The Royals also have top 2019 and 2020 players including recent Arizona commit, Zeke Nnaji and junior guard Kerwin Walton. They come into the season ranked third in the class of AAAA. A ranking that most of the players don't agree with
"Eventually they will see why we should be number one", said Jalen Dearring, senior.
Other teams playing are fellow Lake Conference schools Edina, Wayzata, and Eden Prairie playing in the night cap against DeLaSalle. Eden Prairie is ranked second and Wayzata is ranked fourth in the AAAA preseason rankings.
Edina will play Hopkins' opponent next week, Lakeville North. Lakeville North is another highly ranked team and it will contribute to the Royals tough early season schedule.
Wayzata is facing up against the host Cretin-Derham Hall, last years AAAA champion. Another state champion is Minnehaha who won the AA state championship, who Hopkins will play on Dec. 11. Minnehaha will play Perham on saturday. The Royals look to start off the season on the right foot this weekend.