Junior provides art at local coffee shop in Downtown Hopkins
May 4, 2018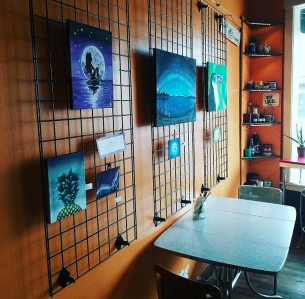 Located on Main Street in charming downtown Hopkins, local coffee shop Munkabeans is a hotspot for local art and artists.
Natalie Amundson, junior, is one of these artists. With the support from her family and an in with the Munkabeans staff, her sister, Amundson had the opportunity to have her art exhibit displayed on their walls.
"I have not done any other art exhibits. I had this one at the Munkabeans location in Shakopee and now it is at the one in Hopkins," Amundson said.
Starting at a young age, Amundson has had a passion for art. It began with her elementary school art classes and continued on with more self taught skills. She saw the quaint coffee shop as a good way to display this.
"I have liked to paint a lot and my sister works at Munkabeans so I thought it would be an interesting thing to do," Amundson said.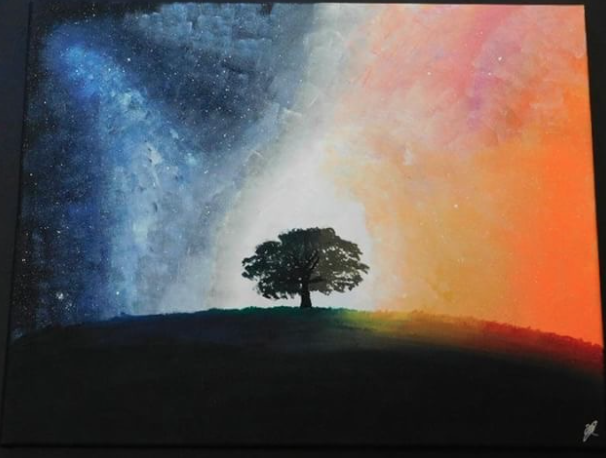 From March 11 to April 21, Amundson's pieces were hung up for guests to enjoy. There was not one specific theme she explained, rather she simply painted what she enjoys: bright colors and nature.
"I did one that was a big galaxy and it went from blue to orange with a tree in the middle. That was one of my favorites," Amundson said.
Profit was not a motivation for Amazon with this endeavor as it is more many artists.
" tried to keep the cost of my paintings really cheap because the price didn't matter to me. I just wanted to do it for the experience," Amundson said.
Besides this exhibit being on display in both Hopkins and Shakopee, Amazon has shred her talents in other ways. At the Golden Valley Pride Festival, she worked with Girl Scouts to help them create pieces of art for themselves. She hopes to continue her work in the future.
"I would like to do my own exhibit and have a booth somewhere. I think that would be cool," Amundson said.