Royals softball team looks to carry their confidence towards the end of the season
May 4, 2018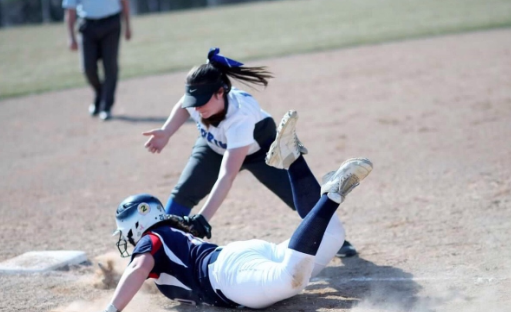 provided by Parker Stoddard
The girls softball team was swinging for the fences on Monday. The team scored 15 runs led by Parker Stoddard, junior, with three runs batted in (RBI's).
The Royals won 15 to seven against the Orono Spartans, which puts the team 3-5 on the season and 1-1 in conference play. The team is currently in third place behind Minnetonka and Eden Prairie.
The Royals were a very strong team last season winning their section and going to state. The team wasn't as successful in state being eliminated in the first round. They will look to exceed their achievements this season even with a rough start.
"We for sure can make state again this season. Every year since I have been apart of the team we have always had a time where we hit rock bottom, especially last season. Yet we still went to state," Stoddard said. "I believe that we can still meet all of our that we have as a team even though we are in a rough stretch in the season."
The Royals who are in arguably one of the hardest conferences in the state will have to beat out multiple strong teams this year such as Edina, Minnetonka, and Eden Prairie.
The Royals will need to work extra hard if they want to return to where they were last season. It all starts with lake conference wins.
"Going into all games, despite them being conference or not, I try to keep a focused and determined mindset. I don't try to let myself get too tense knowing that one game will affect our conference play and one won't, as all games are important," said Morgan Hawley, junior. "Though, I do push myself to stay more focused on the bench during a conference game as I understand that they carry a little more weight then those that aren't in the lake conference."
The Royals put up some strong statistics on the board on Monday to show the other lake conference teams that they mean business. Not only putting up 15 runs on the board, but in addition, Adisa Preston, freshman, helped drive in four runs with a grand slam.
Everyone on the team on Monday had at least one hit. This showed true teamwork and will ultimately set the confidence level much higher for the girls for the rest of the season.
"Our confidence level going in to the rest of the games this week was set much higher than normal because our team worked really well together. After a setback loss to Minnetonka on Tuesday we are a team that can bounce back really well. We then went on to beat Edina on Wednesday in extra innings because our team had a high confidence level again going into the game," Stoddard said.