Boys basketball approaches final stretch of season with tough opponents
January 31, 2018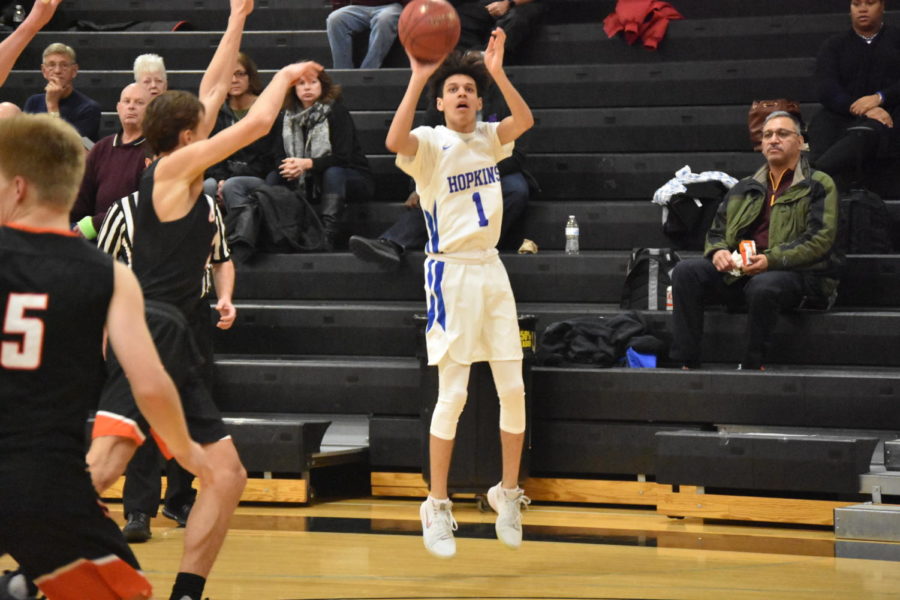 Boys basketball approaches final stretch of season with tough opponents
On Fri., Feb. 2, the Royals boys' basketball team will start a tough stretch to end the regular season.
Ever since their first lose, the Royals have been rolling past teams, their most recent wins coming against Columbia Heights and Annandale 103-76 and 66-47, respectively. They are on a 19-game win streak behind Zeke Nnaji, junior, Anthony Davis, senior, and Blaise Beauchamp, sophomore, who are averaging 19, 15.8 and 15 points per game.
The end of the season will give the Royals a test and could have a lot of impact in the sections tournament. As of now, the Royals are in first of the Lake Conference with a 3-0 record but have five games remaining. The Royals will face the Minnetonka Skippers twice and the Trojans, Eden Prairie Eagles and Hornets once.
The first game will be against the Skippers who are riding a three-game losing streak and have dropped five out of the last six to leave them at 9-7. Their most recent loss came to the Trojans to move the Skippers to 0-3 in conference play.
A week later the Royals will travel to Edina to play the Hornets, who just lost a seven-game win streak and sit at 12-5. The Hornets, alike the Trojans, were able to take down the Skippers to give them their first conference win.
The Royals then will play the Minneapolis North Polars to give them a little break on Lake conference teams. The Polars are 11-4 and are also undefeated in their conference.
The Royals final three games will come on back-to-back-to-back Fridays starting on Fri., Feb. 16.
The Royals will travel to Wayzata and play the Trojans to start off these final three games. The Trojans aren't having the season they did last year but they are still finding success, they have won three in a row and four out of the last five.
The Royals then host the Eagles in their final home game of the year. The Eagles are also having a very solid season with a 15-2 record, they have won 10 out of the last 11 and are on a three-game win streak, their most recent loss coming against the Royals.
In the final game of the season, the Royals will travel to Minnetonka to face the Skippers.