Boys hockey takes down Rogers 6-2
December 21, 2017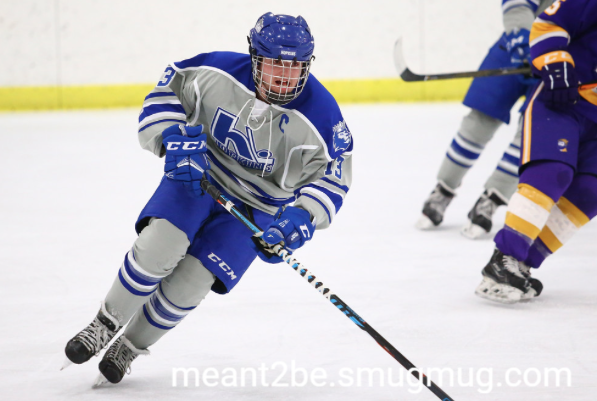 Provided by Johnny Kahner
The Royals boys hockey team snapped a six game losing streak this week with the routing of the Rogers Royals by a score of 6-2.
Highlighting this game was center Henry Sweeney, junior. Sweeney had his first hat trick of the season bringing his point total to 11 which leads the team. Sweeney believes this game will get him, and the rest of the team, out of recent cold streak.
"It felt good to finally get some pucks in the net," Sweeney said. "Its been a slow start for me, but this last game is a good start to the rest of the year for me."
Goaltender Ethan Myers, junior, racked up his first win of the season. Myers saved 16 of 18 shots on goal.
"It felt good to hold the lead the whole game. It was great to get this win in my second start of the season," Myers said. "We all played really well for the whole game and if we continue to play like that, this will be a turning point for the season."
Another highlight of this game was that Jack Stuessi, junior, and Reese Bloom, senior, scored their first goals of their varsity careers. Stuessi felt alleviated after that moment.
"It feels really good. I was really excited when I scored that goal," Stuessi said. "It's definitely a relief. I'll for sure remember that moment for a long time."
The Royals also did something they hadn't done all season as they were the ones to strike first in a game this season. Captain Johnny Kahner, senior, believes its very important to score first in a game as it gives the team momentum.
"Playing with a lead is very important in hockey. It gives the guys confidence," Kahner said. "You play more structured and get the puck in deep."
The Royals are in action tonight in an away game against the 6-3 Eastview Lightning.