Boys basketball looks to retake the throne after losing last year in the section finals
November 20, 2017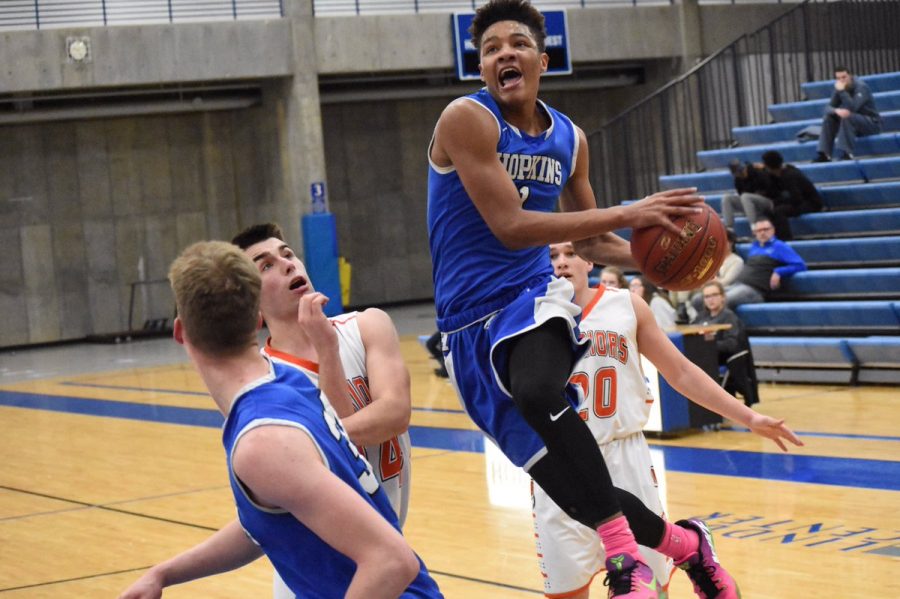 Boys basketball looks to retake the throne after losing last year in the section finals
After not making the state championship for the first time since 2013, the Royals' basketball team put in work this offseason in hopes to return to Target Center this year.
After graduating some key seniors like Simon Wright, Ishmael El-Amin and Darryl Mayfield, the Royals will now look to Joe Hedstrom and Anthony Davis, seniors, Zeke Nnaji, junior, and Blaise Beauchamp, sophomore, to bring the Royals to Target Center.
"During the offseason I have been lifting with Game Face Training in Brooklyn Park," Hedstrom said. "I have also been working on shooting and dribbling in open gym but I am most focused on lifting and getting bigger."
Hedstrom also just recently committed to further his education and basketball career at the University of Wisconsin-Madison.
"I wanted to stay closer to home, and I really liked what the coaches were saying about me playing there and I felt it was the right place," Hedstrom said. "They also have a lot of success in developing their big men."
With El-Amin and Wright being the Royals top scorers last year averaging 20.1 and 16 points per game, respectively, the Royals will turn to Beauchamp and Davis who averaged 11.8 and 11.5 points per game, respectively, to lead the way.
"I'm working on being more of a leader and I'm always waking up early and going to the gym to lift weights and I'm always working on creating space for myself and my teammates," Davis said. "I have also been working on communicating on and off the court."
The Royals also will want to utilize their game in the post with Hedstrom and Nnaji. Both players averaged over eight points last year, but will need to step up their role on the team this season.
"I have been lifting four times a week, I do skills training and conditioning three times a week and also go to open gym," Nnaji said.
The Royals have a new player who came from Breck last year. Kerwin Walton, sophomore, will look to make an impact on his new team. Last year Walton averaged 16.3 points per game. Walton is also ranked as the 22nd best small forward in the nation at his age, according to Minneapolis FAB.
"Kerwin on the court definitely brings us another offensive weapon, he's a smart player and is a really solid defender on the court," Beauchamp said. "Off the court he brings us somebody who works hard and has a good sense of maturity."
Though the season is still a ways away, some players have started playing together in open gym in preparation for tryouts in November. Hedstrom, Nnaji and Walton are three players who have used open gym to their advantage.
"I've been doing some of my training with Kerwin and we also train and play at lifetime together," Nnaji said. "I got to play against Jon Leuer, power forward for the Detroit Pistons, this summer in open gym and our Junior Varsity and Varsity team have been scrimmaging each other."
The Royals season starts December 2, against the Cretin-Derham Hall Raiders.