Movie Monday: Battle of the Sexes
November 6, 2017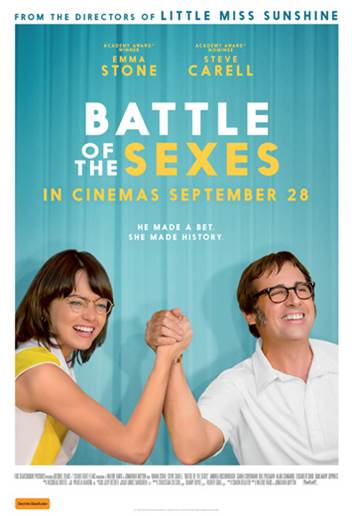 Based on true events, Battle of the Sexes tells the story of Billie Jean King and Bobby Riggs, two famous tennis players in the 1970s.
Billie Jean King was a famous woman tennis player who fought for equal rights for women. She boycotted tennis tournaments to gain equal pay for men and women, and she even created her own tennis tournament.
Bobby Riggs was older than Billie Jean King and was a big gambler. He was also a good tennis player, and would challenge people to matches for money.
The movie depicts the events very accurately because they changed very few of the actual events.
They also chose good actors and actresses to play all of the roles. They chose famous actress Emma Stone for Billie Jean King. She fit this role well and said, in interviews, that this was one of her hardest roles to play.
Bobby Riggs was played by Steve Carell who is good at playing a wide variety of roles. Not only were the main characters famous, but they also had famous people playing a few smaller roles.
Battle of the Sexes was an enjoyable movie, because it was interesting to see the gender divide in the 1970s and to see the stories in Billie Jean King and Bobby Riggs' lives.
Rating: 10/10