Early Decision and Action deadlines spook seniors
November 3, 2017
As Halloween comes and goes, goblins and ghouls aren't the scariest thing on the block for college prospecting seniors. It's college application season, and Early Action and Early Decision deadlines are hitting seniors at HHS.
If a student is accepted under Early Decision, students must commit to the school and must withdraw all other applications to colleges. Students applying Early Action are simply looking to hear back from schools early, but the decision is not binding.
"I chose to do Early Action because I wanted to hear back from schools faster. Unfortunately, not all the schools I am interested in have early application, but I made sure to apply early to the schools that do have it," said Sophie Sandler, senior.
Despite the pressure of deadlines, not everyone needs to be worried. There is always the second round of early applications, giving students another chance to get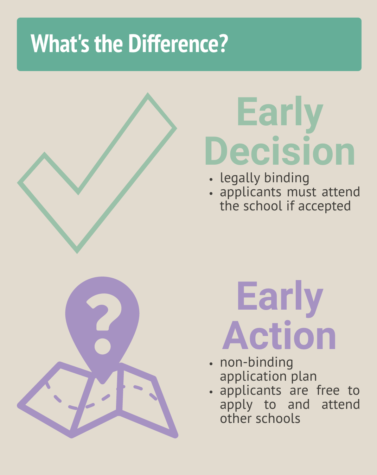 their applications in before the regular decision deadline.
While applying early can be cumbersome, the college search process may potentially be  sped up. Early Decision and Early Action also shows schools that students are interested. Students are put into a smaller pool of applicants, which often increases their chances of getting accepted.
"Applying early shows interest and schools are a lot nicer if you show you are interested in their school, which is good especially when applying to tough schools," said Sydney Gottlieb, senior.
While applying early can be beneficial, waiting to apply regular decision allows for students to get another year of high school under their belts in order to increase their GPA, according to the College Board. It is recommended that if seniors are unsure because of cost, they should research the various financial aid programs that schools may provide.