After a successful season last year, Rugby begins to prepare for 17-18 season
November 3, 2017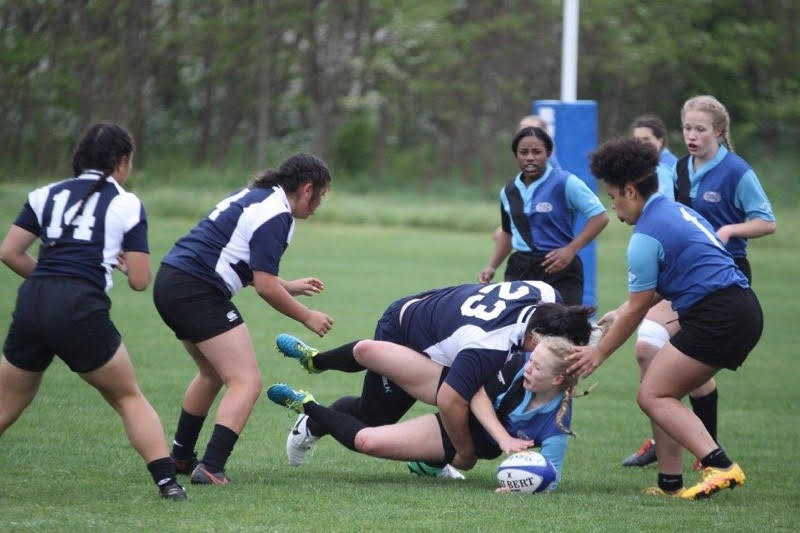 After a successful season last year, Rugby begins to prepare for 17-18 season
Kim Haley
When Sophia Haley and Dylan Nelson, seniors, were looking for a club and something to do after school they didn't have to look far.
HHS Rugby Club was formed by coach Dan Johnson. The team was made for the girls in 1999 and for the boys in 2001. Thor Bolstad is the assistant coach for the team and helps out with other things for the club as well.
"We created our rugby club as a form of recruitment and to become more recognized at the high school," Haley said.
Rugby is a 60 minute game that always starts with a dropkick against the opposing side. A regular game has 30 minute halves and a five minute halftime.
The club meets every Tuesday after school from 2:45-4 p.m. to talk about and plan fundraisers and find ways to introduce the sport to new players.
A touchdown is known as a try in rugby and is worth five points and after each try, you kick for two points.
Some would say that rugby doesn't count as a "real sport." Others think otherwise.
"Rugby is a full contact team sport and it is kind of like a mix of football and soccer," Haley said. "I really like it because it has the exact same contact rules for both boys and girls."
This club is known for being welcoming.
"I love the club because it is accepting of all shapes and sizes, whether you're 100 pounds or 300 pounds," Nelson said.
Rugby is not an official HHS sport, but it does seem to make a large amount students happy.
"This game is a very respectful game. There is no disrespect shown between players, coaches or referees," Nelson said. "We even have social with every team we play against in which we sit down, eat and talk to the different players about anything."
Since this club was created from nothing and it isn't an official Hopkins sport, most would think that a practice would be different from other similar sports like football and soccer. It's not. Their practices consist of the same warm ups and drills that any other sport as.
"Real sport or not, the rugby club has an amazing community of people that are always looking to expand," Haley said.