A grand finale
Girls swim and dive concludes regular season with momentous win, Senior Night celebrations
October 17, 2017
As captain Kristen Ho, senior, got ready to swim her last home meet as a member of the Royals on Oct. 16, she was overwhelmed with emotions of excitement and sadness.
"It's really sentimental compete with the team I've been on since ninth grade for the last time," Ho said. "I've watched these girls grow and it's going to be hard to leave them behind next year." 
On Oct. 16, the Royals girls swim and dive team competed against St. Louis Park in their last home meet of the season. The team ended their regular season with a huge success, beating the Orioles 107-80 for their first dual meet win in two years.
Following the last home meet, the swimmers and divers celebrate Senior Night, a recognition of the team's 11 seniors and their accomplishments.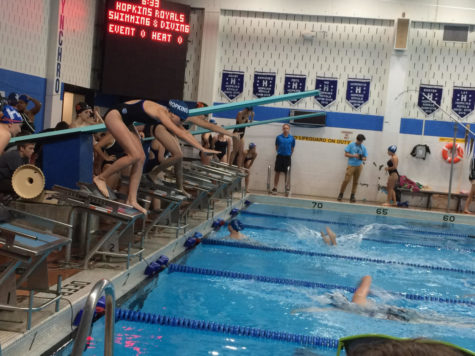 During the Senior Night dinner, younger teammates share fun stories and give speeches about each senior, and a poster with pictures from each senior's swim career is presented to teammates, family, and friends.
Captain Abby Feitl, senior, said that Senior Night allowed for her to reflect on her swim career for the Royals. Feitl, like the 10 other seniors, grew emotional as she completed her final dives at the NJH pool.
"[Senior Night] just brings back all the memories from my years on the team and is a great way for the seniors on the team to get recognition," Feitl said. "Also, just a lot of tears."
Feitl said that she attributes much of her growth and memories to her six years on as a member of the team.
"I've definitely made some of my best friends through swim and dive, and it's helped me become a better leader," Feitl said.