Under pressure
With school, activities, college, and social lives, HHS students are increasingly experiencing the effects of stress.
October 3, 2017
What causes my stress?
For Rafael Lewis, senior, walking into the senior class' first extended advisory was another reminder of the stress that comes with planning, applying, and choosing a college for next fall.
"Colleges give me a lot of stress because everyone expects me to have everything in order," Lewis said. "It's a lot more complicated then it looks."
Lewis is not alone. Students at HHS, whether upperclassmen or underclassmen, experience stress for many different reasons.
Lots of high school stress comes from balancing different activities and clubs with an already busy school schedule. For Kallie Kuehmichel, senior, stress is caused when her athletic commitments start to get jumbled with school.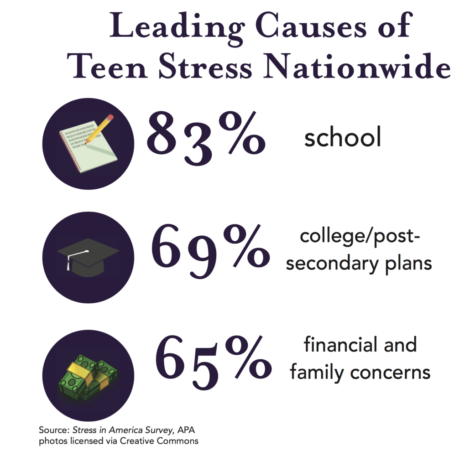 "As a student athlete the most stressful thing is having games or practices and having to worry about having homework afterwards," Kuehmichel said. "Especially after games when you don't get home until nine or ten and you to stay up late doing homework, which makes you even more tired for the next day."
Even without extra curriculars, school itself can be very stressful for students, in-class and out.
"In my life I find tests to be really stressful because the night before I don't get as much sleep," said Marcella Reese, junior. "I feel like just the different aspects of life, the different homework and social events all combine to give stress."
Outside of class, pressures from other students and adults can cause all kinds of stress for high schoolers, even when the stressor is not a tangible thing.
"I think the biggest stressor would be the expectations that everyone else has compared to what your expectations are and what you really want to do," Lewis said.
At HHS, there are many departments that strive to help students better understand their stressors and work to overcome them. The Stress Management class at HHS also strives to help students understand their stress and work to manage it. The course is developed and taught by Jane Kleiman, Health.
"[The Health department at HHS] teaches students the science of stress (what is happening inside the body during stress) as well as various stress management  techniques hoping each student will find a few that work well for them as individuals," said Mrs. Kristen Slinde, Heath.
How can I get through these rough times?
Justin Reifsteck, senior, handles stress by going to Lifetime Fitness and participating in heated yoga or basketball as his way to relieve school stress.
"I deal with stress everyday, whether it is a school project or a test coming up there is always something on my mind that is stressful. Going to Lifetime helps release some of my stress by taking my mind off of school, improving my body and my mental health through Yoga," Reifsteck said." "It is an escape from the real world where I can go to Lifetime and truly be independent and run away from the stress for a period of time."
Austin Lehman, senior, similarly deals with stress by working out, he also does occasional Yoga, but mainly working out everyday.
"Working out in general is always really fun for me. But especially, when I am stressed about upcoming tests and homework, it always good for me to get a workout in. In order to get over it I go to the gym with my friends, and we do a workout routine everyday. It feels good because it gives me something to look forward to everyday after school. As well, I also believe that it gives me more confidence to solve the stressful moment."
Another possible way to handle stress is by creating a routine for yourself.
For Kristen Ho, senior, not only does she use swimming to relieve stress, but she also has a certain routine to make sure every assignment is complete.
"Doing sports has forced me to learn good time management skills. Swimming definitely takes my mind off of the many things I have to do later and that helps to ease my stress," Ho said. "As for school, I make a to do list and prioritize the things that are due the soonest, make sure to write everything in my planner–homework, due dates, tests/quizzes, and important deadlines. After I finish one of my tasks, I make sure to cross it off, because it makes me feel accomplished and my list of things to do will become shorter."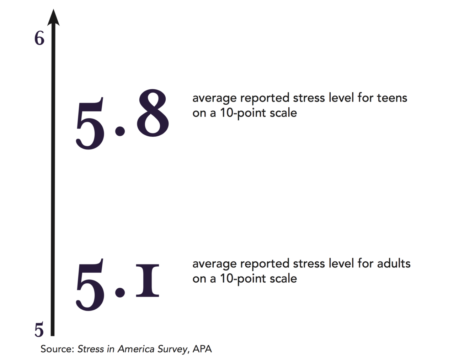 One thing that Lehman, Ho and Reifsteck all had in common was that all of them prefer to participate in some sort of physical activity to reduce their stress.
However, another tactic to use when dealing with stress could be simply sleeping or listening/playing music.
"The way I calm myself down when I am stressed is by taking naps and playing music. I like playing mostly piano and drums," said Jimmy Murphy, sophomore.
Whether it's working out, taking naps, prioritizing with a planner or listening/playing music there are many ways you can handle stress.
"I think it's important to stay confident and try to get your mind off of the thing that is stressing you out. How I get past the stress is by clearing my mind through working out," Lehman said.