Tuesday Taste: The 5-8 Club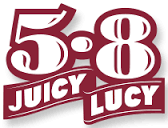 Hang on for a minute...we're trying to find some more stories you might like.
After the passage of the 18th Amendment in 1920, which prohibited the sale and consumption of alcohol, many were left conflicted about the lack of alcohol. Eight years later, the 5-8 Club was opened in Minneapolis as a speakeasy, illegally serving alcohol and some food to fill the needs of the of the thirsty rebels.
In 1935, Prohibition ended. But the 5-8 Club lives on today.
The 5-8 club is commonly known for their famous "Jucy Lucy," a staple along the Twin Cities. A Jucy Lucy isn't an average cheeseburger: cheese is melted inside the burger.
The 5-8 Club has won 27 awards from places all over Minnesota. The original location is in Minneapolis but now the 5-8 Club has three other locations in Maplewood, Champlin, and West St. Paul.
When I typically go to the 5-8 Club, I go to the one in Minneapolis for its original feel and "burger joint" atmosphere. I of course ordered the famous Jucy Lucy with fries, and it really lives up to its prestigious name.
Not only does the 5-8 Club rake in the awards, the restaurant was featured on TV shows such as Man vs. Food, Food Wars, 101 Tastiest Places to Chowdown, and Twin Cities Live.
If you love a good burger and a classic burger place atmosphere, this is the place for you.
Rating: 10/10
Locations:
Minneapolis: 5800 Cedar Avenue South, Minneapolis, MN
Maplewood: 2289 Minnehaha Ave E, Maplewood, MN
Champlin: 6251 Douglas Court North, Champlin, MN
West St. Paul: 1741 S. Robert Street, West St. Paul, MN