Students wrap up summer fun at the annual Minnesota State Fair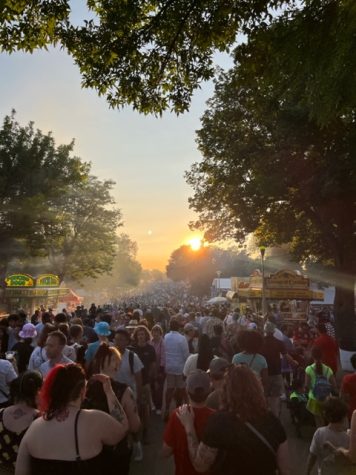 The Minnesota state fair is one of the largest and most popular annual events held in the nation. It draws the attention of foodies from all across the state.
This year the state fair has already attracted 939,046 people, with an average daily attendance of 100,000. These are record-breaking numbers compared to last year's average attendance of 70,000. 
Everyone comes to the fair with their own opinions on what foods are the best, from fried snickers to turkey legs. HHS students loved the fair as well. A recent poll counted that about 78% of HHS students attended the fair, and of those students, their favorite foods were fried pickles and corn. 
"The tofu skewers at the Union go badonkadonk," said Alejandro Vega, Senior, who loves trying international foods."The Thai chili peppers in the sauce were decadent; there is no other way to describe it." 
The Union is a Hmong kitchen that serves traditional dishes at the fair in the International Bazaar section. This part of the fair is where people go to try foods and buy souvenirs from all around the world. 
"I really like Luigi's fries," said Louis Degiulio, Senior, who has been an avid state fair attendee. 
Like Drake once said, Degulio quotes, "they're the best I've ever had." 
One of the best things about the State Fair is the variety of food options. From classic fair foods like corn dogs to the more unique pickle pizza, there is something for everyone.
"The state fair is something I look forward to every year because I love to eat and try weird food combinations," said Miley Perry, sophomore, who loves going to the fair with her friends.
Clearly, the Minnesota State Fair is an exciting and fun event that HHS students love to attend every year. The main reason students continue to come back every year is for the food!