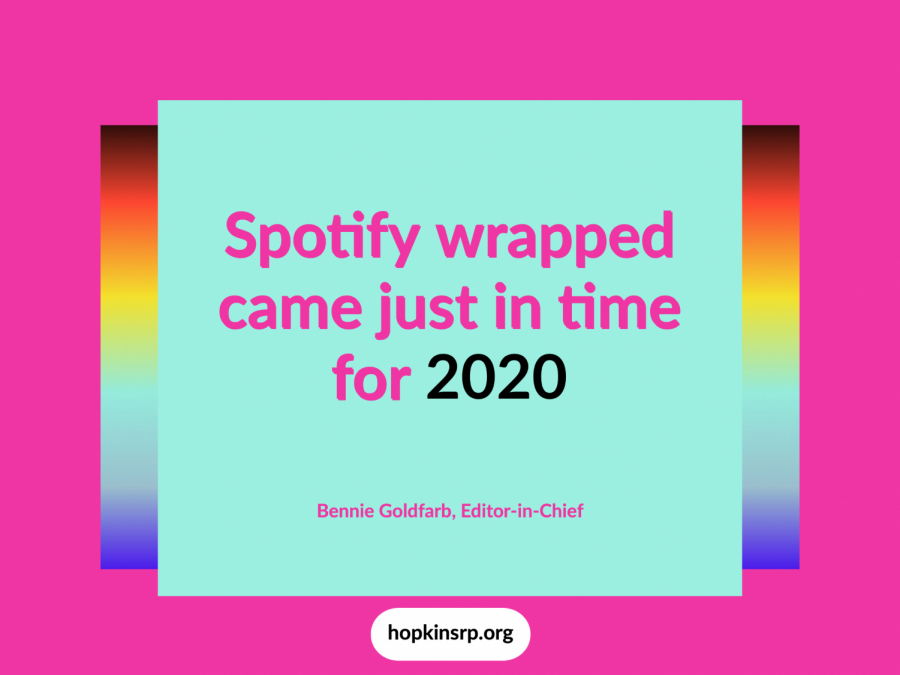 Sophia DeSanto
President Biden was broadcasted live on television receiving the vaccine for COVID-19. Since then, unemployment has only decreased and the world is slowly progressing into normal life again.
Well not quite yet, but the good news is Spotify Wrapped was released for 2020. And while the results may be surprising to some, the information was collected directly from your listening habits. 
All the embarrassment, all the hard times and all the good times are shown in a person's minutes listened, top five songs and top five artists shared on their social media stories. Students Wrapped were viewable in the app starting on Dec. 1, although it took a day until people shared them on Instagram.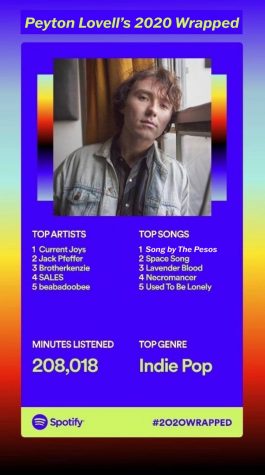 Peyton Lovell, junior, didn't pass up the annual opportunity. Lovell's Wrapped was impressive, with a top genre of Indie Pop and boasting a total of 208,018 minutes — or roughly 144 days —  listening to music.
"I constantly have music playing when I'm doing anything because it really helps with my anxiety, and I think with isolation that just kind of multiplied," Lovell said. "Also, I listen to music a lot to fall asleep, so that might play a pretty big factor."
Lovell's minutes were on the higher end, but most people who shared had anywhere from 15,000 to 60,000 minutes. In 2018, it was reported the average ad-supported listener spent 2.5 hours per day with headphones on, which is 54,750 minutes listening to music the whole year. 
This figure may seem high when comparing people's Wrapped, but Spotify doesn't disclose that Wrapped only records your listening data from Jan. 1 to Oct. 31, with statistics and each unique playlist taking an entire month to create.
This year Mr. Dain Liepa, English, connected with his students through their Spotify Wrapped, sending a Google Form for attendance on Friday, Dec. 4 asking if they participated in 2020.
"I love to connect with students about music! TikTok and Spotify have changed the way we listen to and find music. I find that it keeps my finger on the pulse of both the artistic aesthetic of the moment, and it allows my students to have an influence on me," Mr. Liepa said.
There's no doubt the pandemic has had an effect on students, and teachers, listening habits. Spotify shared the message "The longest year ever may not be over yet… But your Wrapped is finally here" before diving into the statistics, and included a person's most streamed song as the one that "helped you get through it all."
"Honestly, a ton of factors play into the overall popularity of Wrapped, and I definitely agree that the pandemic had a big role this year," Lovell said. "As a generation, music has become a massive part of our culture because of how easily accessible it is (especially through platforms like Spotify). When the pandemic happened, communication became so limited that sharing our personal lives has spread across all social platforms."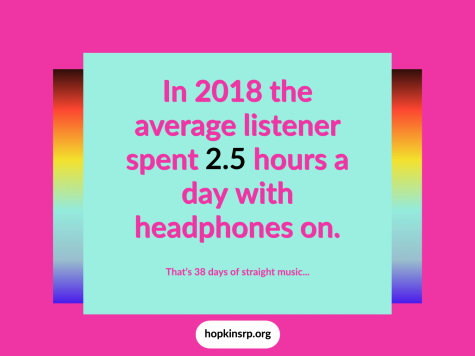 The hardships people faced this year, and the murders of George Floyd, Breonna Taylor and recently Casey Goodson Jr. have had weighing effects on students' mental health. Coupled with an election year, it's difficult to put into words the emotions from 2020. 
Wrapped was perfectly timed and allowed everyone to share a glimpse into the hurricane of emotions they felt.
"I really like when people share their Spotify Wrapped because as someone who is a bit obsessed with music, seeing what someone else's taste can tell me a lot about what kind of person they are," Lovell said. 
The simple design is aesthetically pleasing, and Mr. Liepa has even found a few recommendations for his playlist.
"I love seeing what people listen to. I enjoy the social aspect of Spotify in general, and for people whose music tastes I trust, I can oftentimes find new material to listen to," Mr. Liepa said. "It is something I look forward to, and that creeps up on me each year. It is a time for reflection, and Spotify lets us see how we did."