HHS introduces Elite Athletics Program
October 13, 2017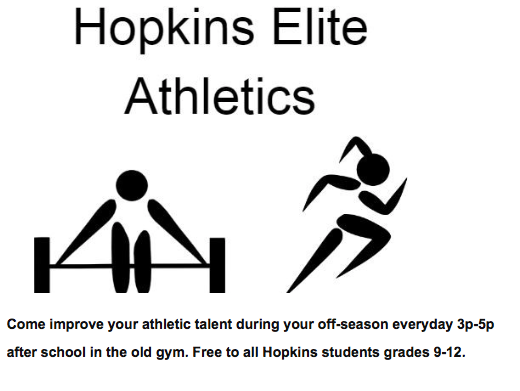 http://hopkins-royals.com/2017/09/27/hopkins-elite-athletics-program-starting-92517/
After going through countless new strength coaches in the last five years, HHS has a new team of strength and agility coaches, and a new program to go along with them.
Austin Salargo, HHS alumnus and leader of this new program, hopes to give students an organized program, so they can stay focused and in-shape during the offseason.
"With this program, I hope to raise the overall athleticism of our sports teams by giving athletes a structured off-season training program," Salargo said. "And the second is to promote cross-sport participation. There are not enough kids participating in multiple sports at high levels."
Salargo graduated from HHS in 2012. During his time at Hopkins, he was a multi-sport athlete at the varsity level, competing on the track and field team while also playing on the soccer squad. In fact, he was on varsity track and field for all four years high school, and attended the University of Minnesota for track and field for two years. Now, he coaches the boys and girls sprint teams where he has been for the past three years.
Athletes are expected to meet in the old gym for warm-ups at three and are let out around 4:30. The program is very inclusive.
"This program is open to all 9-12 Hopkins students," Salargo said. "You could be a starting varsity athlete or even someone who does not play a sport and simply wants to get in better shape."
The new program is two or three days a week of strictly weight training depending on the sport of the athlete. The difficulty of the exercises get progressively harder as the season goes on.
Evie Barczak, senior and varsity softball player, likes how organized the program is.
"I really like how it's organized because it helps motivate people to come and train. I also like how the program gets progressively harder," Barczak said. "It's hard to workout by myself, so I like that I can go there and be motivated by [Salargo] and all the people that go."
Salargo's program also involves speed and agility workouts to compliment the weight training. Athletes will do different running, form, and explosive exercises
Barczak has been playing center field for the Royals softball team for the past two years. Developing more speed and quickness benefits Barczak tremendously.
"Working on my speed is really important for me. I have to cover a lot of ground in center field," Barczak said.
Parker Stoddard, junior varsity softball player, likes the supervision the program provides.
"The program is a great benefit to players who're in their offseason. It's nice to have someone watching you to make sure you're doing everything right," Stoddard said. "Not being supervised in the weight room leaves you very susceptible to hurting yourself. Having someone push you helps you reach your potential as well."
Salargo wants to make our athletes more athletic in every way. Whether that's in the weight room or on the field.
"My two main goals for the athletes participating in Hopkins Elite Athletics, is to increase raw athletic talent and to prevent injuries," Salargo said. "It is not my job to create a running back, or an outfielder, but I can help make those kids faster, stronger, and more agile so that when they do go to their sport season their coach has more to work with."