Hedstrom commits to University of Wisconsin-Madison
October 12, 2017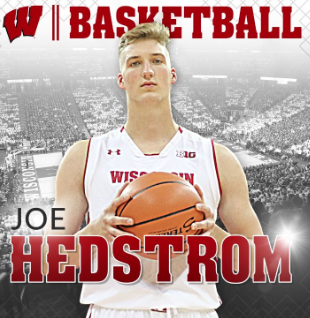 provided by Joe Hedstrom
Joe Hedstrom, senior, has been playing basketball since he was eight years old. Hedstrom has many favorite moments on the court growing up but one of them was with his father.
"I played for my dad for four years, and he was guarding me and I hit him with a crossover and he dislocated his knee and had to go to the hospital," Hedstrom said.
Hedstrom did not start out in the Hopkins School District. Until his junior year, he was homeschooled.
"To be honest, it was my parents decision. They wanted me to be around more people and wanted me to grow, fortunately they were right," Hedstrom said.
In addition to playing basketball for the Royals, Hedstrom also plays on an AAU (Amateur Athletic Union) team, the Minnesota Comets.
During the regular season, as a junior, for the Royals he averaged 11 points and 7 rebounds, and for the Comets as a junior he averaged 12 points and 9 rebounds respectively.
Hedstrom believes that, overall, he is best at spacing and running the floor.
"Definitely being able to run down the floor fast and get in front of my man. I have quick feet and play hard," Hedstrom said. " I am always looking for somebody to box out."
Hedstrom believes one thing he is underestimated for is his ability to shoot.
"One thing I think some people overlook about me is my ability to shoot from midrange and being able to face the basket," Hedstrom said.
Mr. Ken Novak, Social Studies and coach of the Royals boys basketball team, believes that Hedstrom has come along way.
"He's made a lot of good improvements, and he's got time to bulk up and get stronger. He is going to continue to work hard everyday in practice getting better balance, and getting him to fully develop," Novak said. "He's a kid who can go out and score off of rebounds, get blocks and shoots well for his size."
As for things Coach Novak thinks he could improve on: "He needs to get stronger, improve his agility and balance and become a better passer, all of which things he can do with time and work," Novak said.
Hedstrom was offered by 15 different schools, including Bucknell, Hofstra, Columbia, South Dakota, Denver, Western Michigan, Wisconsin, Utah, North Dakota, North Dakota State, Cleveland State, Loyola-Maryland and others.
After lots of time and decision, Hedstrom has decided to commit to the University of Wisconsin-Madison.
"I kind of realized that being closer to home was something I wanted, also Wisconsin has had a history with graduating big men and obviously being one of the best programs in the nation were all parts to my decision," Hedstrom said.
Assistant Coach Dale Stahl, Social Studies, believes that the University of Wisconsin-Madison is a good fit for him.  
"You gotta pick the school first, basketball comes second, so Wisconsin is a great fit because it is great academically," Stahl said.
Hedstrom is excited to see what's ahead when he arrives.
"I most looking forward to being on campus. I know the trainers, the nutritionist, and being around the coaches and other teammates, especially [Minnesota natives] Nate Reuvers, Brad Davidson, and Walt McGrory," Hedstrom said.